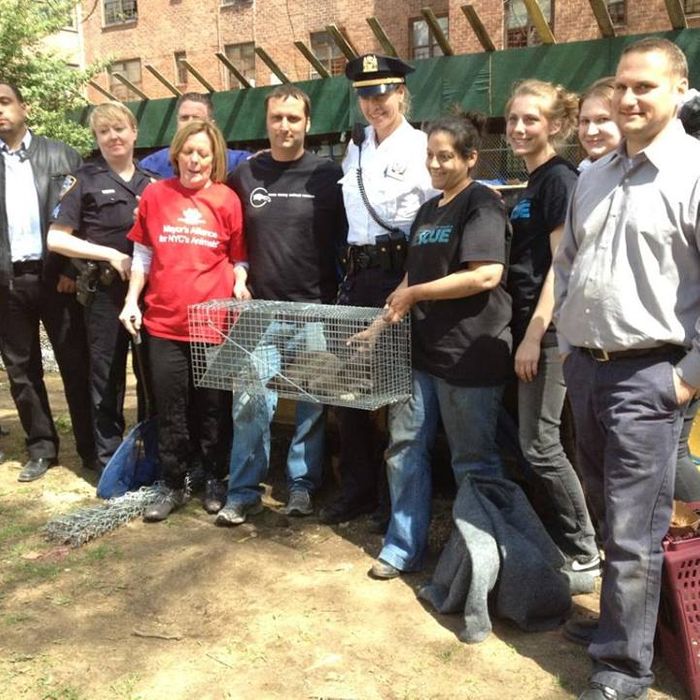 On Monday, 21-year-old Andre Robinson was arrested after he was identified as the man seen very, very meanly kicking a friendly gray kitty in a Facebook video. Robinson has since been charged with aggravated animal cruelty and returned to his home, where his mother has been insisting to reporters that "the cat is fine." Thankfully, we no longer have to take her dubious word for it: On Tuesday, a team of 16 rescuers managed to track down the stray in Bed-Stuy's Brevoort Houses.
According to the New York Daily News, the cat, whom some of Robinson's neighbors call King, was pretty difficult to save. Over the course of two and a half hours, representatives from the NYPD, the ASPCA, the North Shore Animal League, and the Sean Casey Animal Rescue chased King, who seems to be justifiably suspicious of people: 
First, the fleet-footed feline squeezed himself into the engine compartment of a parked minivan. When the rescuers pried open the hood, he raced off and somehow squirmed his way inside a nearby Ford Explorer.

After King was rousted from the Ford, he led the humans on a not-so-merry chase through a construction site before he was finally cornered under a Dumpster. It took about 45 minutes for coax the cat into a cage.
He's now being checked for injuries at the Manhattan ASPCA. If the vet determines that Robinson seriously injured King, the human could be charged with a felony. The cat's rescuers say it's not yet clear whether he will be put up for adoption. Hopefully, someone nice will take King home, and it will turn out that getting punted into a bush was the best thing that ever happened to him.