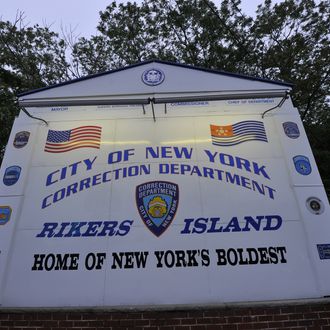 Photo: JEWEL SAMAD/2011 AFP
The February death of 56-year-old Jerome Murdough in a 101-degree Rikers Island jail cell now, somehow, looks even worse for the city. According to a new Associated Press report, the guard who investigators say was not making her required rounds while Murdough was left unsupervised for at least four hours "had been disciplined four years earlier for a similar infraction." 
Carol Lackner was accused in 2010 of leaving her post and leaving Rikers Island entirely without permission while working in a women's section of the jail, according to the documents obtained through a public records request.

That administrative charge was settled, her attorney says, when Lackner agreed to give up five vacation days. He said she was on a break when she left, which is nevertheless a policy violation.
The investigation into Murdough's death found that she once again left her post 20 minutes before he was found "basically baked to death." The AP adds, "While logbook entries indicate Lackner toured the area every half hour as required, she isn't seen on video doing so."
"It's unfair to lay everything at her foot," said Lackner's lawyer, arguing that she'd worked three straight shifts and didn't know the extent of the heat problems. While the family of Murdough, a homeless former Marine, sues the city for $25 million, Lackner has been suspended for 30 days.