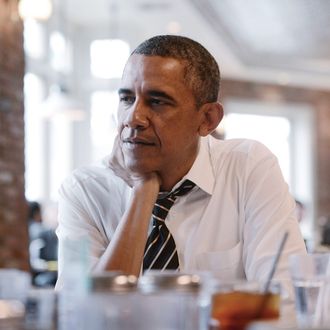 Photo: Olivier Douliery-Pool/Getty Images
Robert Copeland, an 82-year-old member of the police commission in Wolfeboro, New Hampshire, made it clear last week that he did not regret calling Barack Obama "that fucking nigger," owning up to it and refusing to apologize, because the president "meets and exceeds my criteria for such." But in 2014, the staggering ignorance and twisted pride did not fly, even in a town that only has about 20 black people: Copeland, who was reelected unopposed in March, resigned last night after no less than Mitt Romney chimed in to say he probably should.
"The vile epithet used and confirmed by the commissioner has no place in our community: He should apologize and resign," Romney, who owns a home in the town, said in a statement. (Still no apology from Copeland, although it may have rung a little false anyway.)
"I feel it was the right thing for him to do to stop this incredible train that had been blowing through our town," said Jane O'Toole, a new Wolfeboro resident who overheard Copeland's remarks in a restaurant and decided she couldn't just let it go. "I'm thrilled. The people of Wolfeboro have stood up and said that this is not acceptable."
Joseph Balboni, the chairman of the town's three-person police commission who defended Copeland by saying, "He's worked with a lot of blacks in his life," still has his job.