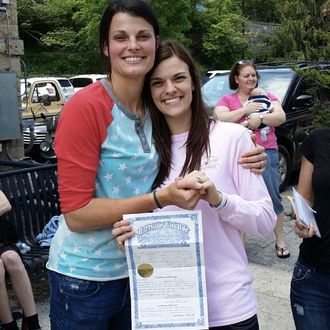 The state's first married same-sex couple.
Having already conquered Virginia, progress continued its march South on Friday, when Arkansas Circuit Court Judge Chris Piazza struck down the state's 2004 same-sex marriage ban. "Same-sex couples are a morally disliked minority and the constitutional amendment to ban same-sex marriages is driven by animus rather than a rational basis," Piazza wrote. "This violates the United States Constitution."
Unlike judges who have done the same thing in other states, Piazza did not issue a stay on his ruling. Arkansas Attorney General Dustin McDaniel, who has said that he does not personally oppose same-sex marriage, said that he would still appeal the decision, but he had not filed any objections by Saturday morning. So, Arkansas couples went ahead and got married.
The first same-sex pair to wed in the state was 27-year-old Kristin Seaton and 26-year-old Jennifer Rambo. The Associated Press reports that the two women exchanged vows outside a county courthouse in Eurkea Springs, having spent the night in the car after driving from their home in a town 150 miles away. "Thank God," Rambo said upon receiving her marriage license, apparently after someone questioned a clerk's right to grant it. Hopefully, the pairs that followed her only had to deal with normal levels of wedding stress.