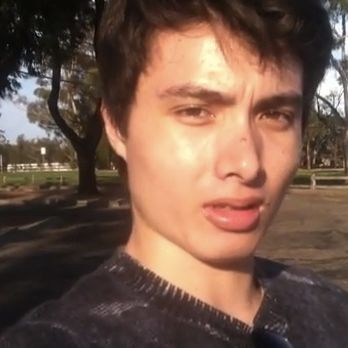 On Friday night, University of California, Santa Barbara student Elliot Rodger went on a drive-by shooting rampage in a neighborhood near his school, killing six people and wounding seven others. He was soon found dead in his crashed BMW, either from a self-inflicted gunshot wound or one he sustained during an earlier shootout with the police. On Saturday afternoon, a lawyer for Rodger's father, The Hunger Games assistant director Peter Rodger, released a statement confirming that that the 22-year-old was responsible for the shooting and extending condolences to the victims' families. Attorney Alan Shifman also revealed that the Rodger family had called the police a few weeks ago to express concern about videos on Elliot's YouTube channel "regarding suicide and the killing of people."
Shifman added that the police interviewed Rodger. While they noted that the young man "didn't have a lot of friends" or a girlfriend, they supposedly found him to be a "perfectly polite, kind and wonderful human." The aforementioned videos — a number of which Rodger posted to a YouTube channel in the last week or so — tell a more complicated story.
The most recent and upsetting clip has already been taken down (though you can see it here.) In that video, Rodger promises a "day of retribution" for his "existence of loneliness, rejection, and unfulfilled desires, all because girls have never been attracted to me." "I'll take great pleasure in slaughtering all of you," he says later. "If I can't have you girls, I will destroy you." Rodger's other videos follow the same themes — loneliness, isolation, anger, and misogyny. Though Rodger was clearly suffering from mental illness, his rage at women for rejecting him is still profoundly disturbing, especially because his language (including the use of the term "alpha male") and YouTube subscriptions seem to show that his warped perspective was influenced by the pick-up artist and men's rights communities.
Here, Rodger visits a golf course and says, "This world is such a beautiful place. It's such a tragedy that I had to live such a pathetic life in it, all because of the cruelty of humanity and women."
In this video, Rodger sits on the balcony at his father's house and listens to kids playing. "When you're a kid you don't have to worry about things like being attractive or how many girls like you. No one has unfair advantages," he says. "Then, when you hit puberty, your life either becomes heaven on earth or a living hell. It all depends on how many girls like you, or if girls like you at all. My life turned into a living hell. No girls like me, and I hate them all for it."
"I don't know why you girls are so repulsed by me. I do everything I can to appear attractive to you. I dress nice, I am sophisticated, I am magnificent. I have a nice car, a BMW … I am polite. I am the ultimate gentleman. And yet, you girls never give me a chance. I don't know why," Rodger says while standing outside. "I feel so invisible as I walk through my college. Your revealing shorts, your cascading blonde hair, your pretty faces. I want one for a girlfriend … I deserve girls much more than all those slobs."
The rest of Rodger's videos are here.