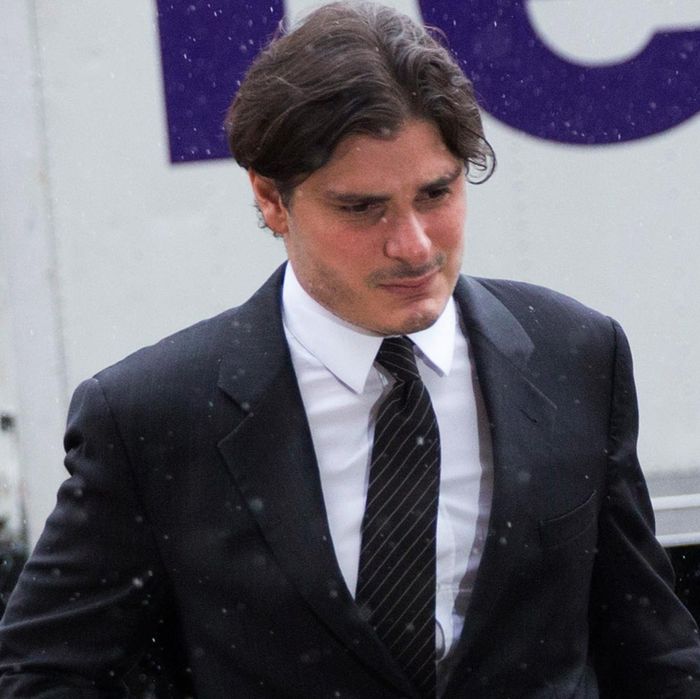 Photo: Brendan McDermid/Reuters/Corbis
When the charges were first announced a year ago, the federal government's sprawling, 34-defendant case against an alleged $100 million gambling and money-laundering operation seemed to have it all: the Russian mob, an art-world scion who once dated Gisele, and a mysterious woman who orchestrated a now-legendary poker game run by Tobey Maguire and attended by Leonardo DiCaprio, Ben Affleck, and Matt Damon. But now that most of the people involved have been sentenced, the case is both smaller and bigger than it first seemed. On the one hand, some pretty powerful people are going to jail. On the other hand, the real whales have either eluded justice or were never targeted or caught to begin with.
The case itself had centered around a sports-betting and poker ring allegedly run by Hillel "Helly" Nahmad — the 35-year-old son of billionaire art dealer David Nahmad (not named in the case), whose gallery in the Carlyle Hotel had been raided by police during Helly's bust — and his friend Illya Trincher, a professional poker player who financed the venture through both of their fathers. Helly and Illya were facing prison terms of nearly 100 years each. From the start, Nahmad had refused to let the charges interfere with his life; he made $10 million bail like it was loose change and sat courtside at a Knicks game within days of his arrest. And so the biggest surprise so far may be that Helly, the flashy billionaire former boyfriend of Giselle who seemed certain to avoid jail time, is actually going to jail. 
In court last week, Helly's lawyer, Ben Brafman, argued that Helly was simply a financier with "no decision-making authority" in the games — which the prosecutor called "an effort to minimize the conduct … He is not just the pawn, the rich kid getting used. He is a sophisticated individual. He has it both ways. He's the sophisticated art man who is doing millions and millions of deals but he's getting used by his friend? That doesn't make any sense." The judge, Jesse Furman, agreed with the prosecutor. Helly was sentenced to a year and a day in prison, starting June 16. The extra day is meant to increase the amount of time Nahmad will actually be required to spend behind bars before qualifying for early release (sources say that it will probably amount to six or seven months in prison). Furman had particular disdain for a proposal Helly made that he be sentenced to community service by giving $100,000 a year to a program that would expose underprivileged youth to art — an offer that essentially amounted to giving kids tours of the Carlyle art gallery. He said this offer was indicative of "Mr. Nahmad's view of the world, at least when he thinks that no one is watching, when he's not operating in the high-flung world of international art-dealing and that he can take advantage of the situation … To me, to sentence him to something that he professes to love, to allow him to use his family's wealth to bail him out of this trouble that he's in would not be punishment. It would not promote respect for law; it would breed contempt for law."
Brafman, in turn, believes his client was singled out, noting that no organized-crime, money-laundering, or racketeering allegations stuck, and that the conviction is simply for gambling. "Sometimes in this business it's not good to be famous," Brafman says.
Illya received a short sentence this week, too — six months followed by another six months of home confinement. Bigger sentences went to other money men. Vadim Trincher — Illya's father — and Anatoly Golubchik, a Bergen County-based Russian accused of being the head of the American wing of the operation, both received five years — far harsher than the prescribed sentencing guidelines and beyond what they'd been negotiating as pleas. Trincher reportedly sobbed in court, while Golubchik lamented, "I came to this country to make life for my family much better … I'm ashamed." The biggest target in the case was the Russian oligarch Alimzhan Tokhtakhounov, accused of laundering tens of millions of dollars for the games. He hasn't been to the U.S. in years, and remained out of reach of extradition.
Others in the case are encountering some tough consequences, though nothing close to the maximum sentences they'd been facing. Eddie Ting, a prominent poker player accused of recruiting big spenders to the games and staking them on credit for a share of their winnings, got five months. Another big poker player, Justin "Boosted J" Smith, made a plea deal for three months of home confinement and 200 hours of community service. The one Hollywood name, Ray Donovan executive producer Bryan Zuriff, got two years' probation. The games themselves were said to be run by Molly Bloom, the so-called "poker princess," whose place at the center of the games attracted more than one whale — and brought her a share of the "rake," or a fee the law prohibits poker hosts from charging in New York. Bloom faced up to ten years in jail, but walked away earlier this week with a $1,000 fine, 200 hours of community service, and a year of probation.
Avoiding jail doesn't necessarily mean Bloom is free of money worries. In court papers, her lawyer, Jim Walden, said she lost all of the $1 million that the government believed she made from the games, paying off debts she'd made to others involved in the games. "Molly's compensation was only through other player's voluntary gratuities; although many of the players tipped well, others did not," he wrote. "Molly had to go 'out of pocket' to pay winning players when the losers failed to pay in a timely manner." When a new "co-host," Eddie Ting, came on the scene, the tipping system ended and a rake was imposed.
Now, the lawyer said, Bloom is working for a friend's business at $19 an hour — quite a comedown for the woman who orchestrated a now-legendary L.A. poker game. The next step for her, naturally, is her long-delayed memoir, Molly's Game, which is slated to be excerpted in Vanity Fair before hitting stores June 24. At her sentencing, the judge asked Bloom if he should expect anything more incriminating to show up in the book. Bloom, 36, assured the judge he had nothing to worry about — that she had "made mistakes," but that this ordeal has also "been a great opportunity for growth." Then she left the courthouse without any further comment, readying for publication day.
Left out of the case entirely, of course, were the high rollers who came to play. "The players were really very much the owners and operators of the games," one lawyer close to this case complains. "They didn't just show up and bet; they resolved the disputes, they directed who to collect money from, they staked other players and took a share of their winnings. I just think it's interesting that the most powerful and richest people remain unscathed."