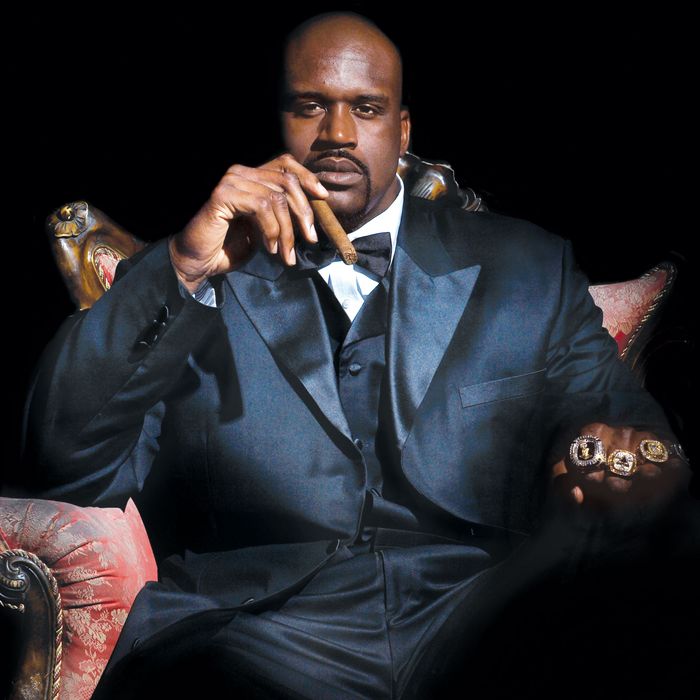 Shaquille O'Neal's eyes light up at being called "the James Franco of sports."
"James Franco!" Shaq exclaims. "That's good shit!" He looks around the conference room outside the Inside the NBA studios in Atlanta, where the crew is beginning to assemble an hour or so before one of its playoff broadcasts. He meets the eye of one of his assistants. "The James Franco of sports! That's perfect!"
At the moment, Shaq's LinkedIn profile lists him as CEO, PRESIDENT at "Alot of different companies. Inc." ("My best asset is that I am proven to lead teams to championships. I mean multiple championships," it further explains, detailing skills that include ­"basketry.") That job description isn't really an exaggeration; it's more an efficient summary. Even a truncated rundown of Shaq's current professional activities runs long. There's the media category: He's a co-host, with Charles Barkley, Ernie Johnson, and Kenny Smith, of the aforementioned Inside the NBA, which is widely considered the best sports studio show of all time; he's also the host of truTV's Upload With Shaquille O'Neal, sort of a jock version of Tosh.0, not to mention the "Commissioner of Sport" for the Cartoon Network.
Then he's got an artistic side. Shaq plays a supporting role as a sporting-goods-store worker in the Adam Sandler–Drew ­Barrymore film Blended, out May 23. ("Adam was like, 'You are fucking good, bro,' " Shaq says of his performance's early reviews.) He's writing an upcoming series of children's books called "Little Shaq" and designing his own jewelry line for Zales. On the corporate front, he's a ­spokes­person for Gold Bond, Reebok, ­AriZona ­Beverages, Monster Audio, Macy's, and probably a lot of other places he doesn't even know about; a minority owner of the Sacramento Kings; and a senior board member of Tout, maker of a "mobile video publishing platform," and his real-estate company owns properties in Orlando, Atlanta, Newark, and Atlantic City.
And he has also come late in life to ­academe, after leaving Louisiana State University to enter the NBA draft. Shaq, who is 42, earned an M.B.A. from the online University of Phoenix (after finishing his LSU degree through correspondence courses) as well as a doctorate in education from Barry University (GPA: 3.81). He's studying for the LSAT now and hopes to attend Georgia Tech, Georgia State, or the John Marshall Law School next year. "I want to do things people tell me I can't," he says. "You don't think I can do three years of law school? Watch me."
There are things he says he's done with, though, like rapping and basketball. Shaq made four original rap albums in the 1990s; his highest-charting songs were "(I Know I Got) Skillz" and "What's Up, Doc? (Can We Rock)" with the Fu-Schnickens. Oh, and "street law enforcement." Shaq's lifelong dream was to become a policeman, and he has actually gone on raids with SWAT teams, but it became problematic. "I would go out in the uniform, and people would be like, 'Is this a movie?' No matter what I did, I am always going to be Shaq. I can get a fucking physicist degree right now, and it's still going to be Shaq," he says. "So when I used to come out in uniform with a gun, people were like, 'Can I take a picture?' That got to be dangerous."
Shaq, who is wearing a massive BROOKLYN T-shirt and jeans before changing into his on-air suit, doesn't micro­manage his growing empire. Every ­morning during the season, he goes to bed at 6 a.m.—after his Inside the NBA studies are over—and wakes up at "one or two" to a complete schedule of all of his activities, put together by the full-time staff of three that follows him around every day. ("Well, four … I've got a chef, too.") That role in Blended? Shaq didn't even know he was going to be in the movie until two days before his part was filmed; he had no idea what his role was going to be. When the NBA season ends, he's set to film another movie role. What is it? "I am not sure." Who's the director? "No idea." Who else is in it? "We'll find out when I get there." When asked whether he, as a minority owner in the Kings, had any say in the league's attempts to force L.A. Clippers owner Donald Sterling to sell his team in the wake of racist remarks caught on tape, Shaq doesn't pretend to have been more involved than he was. "It is not important what I have to say, because the guys that are above me are smarter. They're very intelligent."
This is the brand of Shaq; the big ­lovable lunk who just doesn't take any of this all that seriously. Unlike Michael Jordan, he's one of us, a regular guy (in XXXXL clothing). This image is arguably stronger than it was while he was playing. Shaq drew a total of around $292 million in salary during his playing career and made over $20 million in endorsements, partnerships, and TV last year. It's worth noting that he has been on the cover of Bloomberg ­Businessweek in the past three years, but not Sports Illustrated. He claims he never knows how much money he gets from each deal and that all these projects don't exist to feed his ego but instead to make sure the members of his family have everything they need. "The ultimate play for me as a father is to make sure the children have something to fall back on," he says. "My brand is the way it is now out of fear, constant fear." (Shaq does not say his family is unusually needy, but, well, it must be.) What's strange is that Shaq doesn't seem to have a ton of passion for his projects. He doesn't care about being a better actor. He doesn't hope to be the greatest lawyer in the world. It doesn't matter how well he does these things; he just wants to do them.
There is one thing Shaq is determined to become great at: He wants to be a ­sheriff. He attended a police academy in Florida and was sworn in as a police officer in Golden Beach. But he knows being sheriff requires more than just winning an election—a lawman needs to master his craft. "We all know sheriff is an elected position. I could win by being Shaq easily, but when a pressure situation goes down I do not want the cops second-guessing my decision or looking at me funny," Shaq says. He then describes a scenario—in which a criminal would be barricaded inside with a baby—and how he'd handle it, how you'd need snipers and a careful extraction team and "some guy to put your hand on your head like this [Shaq puts his hand on his head in a totally normal way] and we will run in."
"Distracted" was a common criticism of Shaq during his playing days. While ­players like Jordan, Bill Russell, and Kobe Bryant focused monomaniacally on becoming the best basketball players on earth, Shaq—more physically imposing, at seven-foot-one and 325 pounds, than any of those men—always had lots of off-court pursuits, for which he took plenty of heat. He only won one regular-season MVP and somehow never won the Defensive Player of the Year award even though, theoretically, it should have been impossible to score against him. But, seen in a certain light, those distractions now look more like early-round investments in Shaq Inc.
As they prep for the upcoming show, one of Shaq's co-workers at TNT recognizes me as the founder of sports website Deadspin. Shaq raises an eyebrow. (And Shaq's eyebrows seem to rise about a foot in the air.) "That was you? Man, Deadspin was the shit, bro," he says. "How much you sell that for?" He looks around the room, again, to the smiling, nodding faces. "There's money in those websites. We gotta get me some more of those."
*This article appears in the May 19, 2014 issue of New York Magazine.