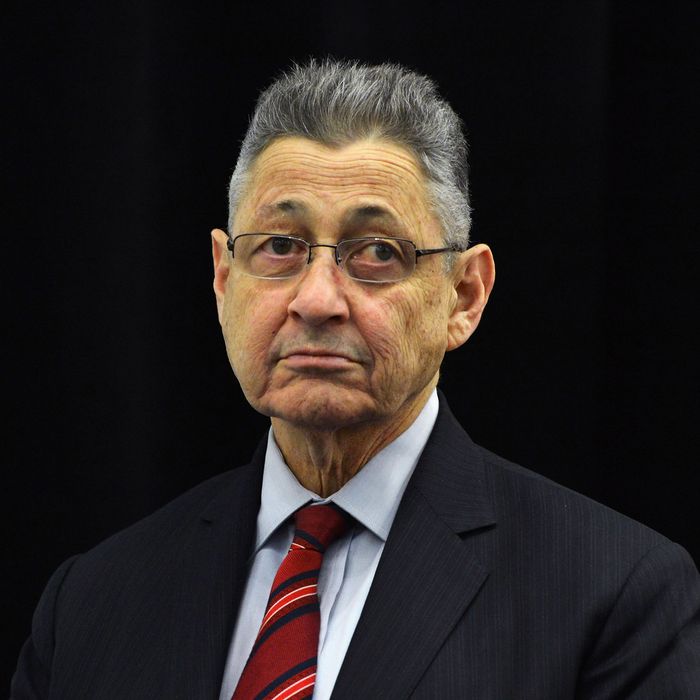 Photo: Slaven Vlasic/Getty Images
When did William Kennedy start writing for The Daily Show?
Shelly Silver, the powerful Democratic speaker of the state assembly, is the central character in a tale that seems as if it sprung from the imaginations of Kennedy, the great novelist of Albany corruption, and of Jon Stewart. But it was broken by the very factual New York Times.
Please read both soon-to-be-award-winning stories by Ross Buettner. The first, in March, was galling enough: It detailed how Silver has impeded development ideas for a 20-acre Delancey Street site that might have accelerated the growth of the neighborhood's non-Jewish population. Or merely replaced the apartments of Puerto Rican residents that were demolished in 1967.
The second story, in today's paper, is where things go from hardball to farcical. It describes how Silver tried to pass blame to another Shelly Silver — until Buettner showed the speaker's office documents tying the politician to the maneuverings. Silver dropped his request for a Times correction, but still somehow insists that Sheldon E. Silver, not him, was the lawyer for the United Jewish Council of the East Side.
Silver — the politician, the guy with no middle name, the one who is still alive and claiming that Sheldon E. Silver's widow is wrong — has had plenty of practice pushing away scandals and controversy. Most recently he authorized the secret, taxpayer-funded settlement of sexual harassment allegations against Brooklyn assemblyman Vito Lopez — just one episode in a series of sleazy behavior toward women by members of Silver's caucus.
So is this latest mess the end of Shelly? Not likely, as depressing as that may be. Inside Albany, the Times stories are producing eye-rolling but not shock. And in the raw political calculus of state politics, Silver remains useful to other key players. Aides to Mayor Bill de Blasio were effusive in their praise of Silver for helping win approval of pre-kindergarten funding and need his support for initiatives like raising the city's minimum wage. Republican Senate majority leader Dean Skelos finds Silver a convenient foil. And Silver has lately been very helpful to Andrew Cuomo in reducing tensions with liberals who have soured on the governor.
There's also this dubious standard: Silver's actions on the Lower East Side may be ethically ugly, and his attempt to shift blame brazen, but nothing appears illegal. Buettner, though, was apparently prompted to start digging by the arrest of Willie Rapfogel — a Silver protégé whose wife remains the speaker's chief of staff. Rapfogel pled guilty and is serving up to ten years in prison for helping steal as much as $9 million from a Jewish charity group. No evidence has emerged that Silver knew anything about Rapfogel's crimes — and he's repudiated his longtime friend. The Delancey Street debacle, however, is only one part of the long, close relationship between the two men.