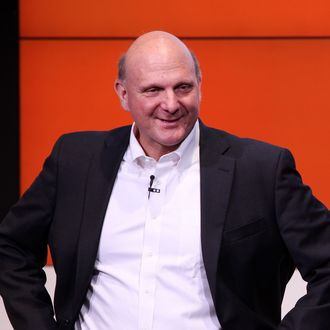 Photo: Adam Berry/2013 Getty Images
The drama over Donald Sterling's racist remarks took a surprising turn on Thursday, when the Los Angeles Times reported that former Microsoft chief executive Steve Ballmer has agreeded to buy the Los Angeles Clippers for $2 billion. While that would avoid a lengthy legal battle and set a new record for the sale of an NBA team, it's unclear if the sale will actually go through. Ballmer reportedly negotiated the deal with Shelly Sterling, Donald's estranged wife, signed an agreement with the family's trust, and sent it directly to the NBA for final approval. However, Donald Sterling was not involved in the talks and intends to keep the Clippers. "Sterling is not selling the team," said his attorney, Bobby Samini. "That's his position. He's not going to sell."
A source with knowledge of the negotiations told the Associated Press that ultimately Donald Sterling will have to sign off on the deal, as "They're not going to sell his 50 percent without him agreeing to it." But ESPN reports that Sterling may not have a say, since the 80-year-old owner has been "found by experts to be mentally incapacitated." If true, that may allow Shelly to become the sole trustee, and negotiate the sale without her estranged husband's approval. 
The NBA owners are planning to meet next Tuesday to discuss the Sterling ordeal, and aside from the legal issues involved, it seems that they would have no issue with Ballmer purchasing the team. He was already vetted by the league last year when he was part of a group of investors that attempted to buy the Sacramento Kings and move them to Seattle. The NBA rejected that plan, but Ballmer told The Wall Street Journal recently that he intends to keep the Clippers in Los Angeles, saying, "Moving them anywhere else would be value destructive."
Ballmer is worth an estimated $20 billion, and will become the richest NBA owner if the sale is approved. He was the only person seeking to buy the team as an individual, and he outbid groups that included Grant Hill, Oprah Winfrey, and David Geffen. If the $2 billion sale goes through, it will be the second highest amount ever paid for a U.S. sports team, after the Los Angeles Dodgers, which sold for $2.15 billion two years ago.
The Journal describes Ballmer as a "basketball zealot whose energy for the sport is equally evident when he is playing pickup games with Microsoft employees, sitting in the stands at NBA playoff series or shouting at referees for high-school games." Plus, he's had a lot of time on his hands since retiring in February. Magic Johnson seemed excited about the sale on Twitter:
He jumped the gun a bit, but you really can't blame him for being enthusiastic about seeing Donald Sterling go.