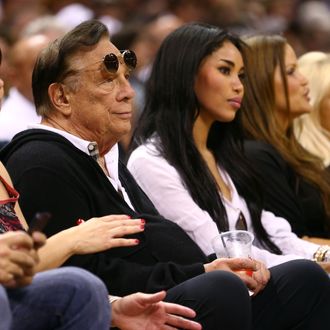 Sterling and Stiviano.
Photo: Ronald Martinez/2013 Getty Images
Earlier this week, V. Stiviano's lawyer claimed that she was "very saddened" that her bigoted 80-year-old alleged boyfriend was banned from the NBA for life, because she "never wanted any harm" to come to Donald Sterling. Usually you don't make a recording of someone's racist tirade when you don't mean them any harm, but new information suggests she was only thinking about using the tape against him at some future date. Stiviano's lawyer, Siamak Nehoray, told the AP on Thursday that the hour-long recording was leaked to TMZ by her friend. Stiviano recorded the conversation on her phone and forwarded two snippets electronically. She asked her buddy to hold on to them for "safekeeping," which the friend apparently took to mean "sell them to TMZ."
Stiviano is currently being sued by Sterling's wife for the return of multiple expensive gifts, but Nehoray would not explain why she sent the recordings. "She's a young girl thrown in the middle of this thing, unwillingly," Nehoray said of the 31-year-old Stivano. "She didn't release the tape. She gave it to somebody for safe keeping. It was unfortunate that it was released. It's a lot to deal with."
Nehoray also reiterated that Stiviano is Sterling's archivist, and nothing more. "It was by mutual agreement that it was going to be recorded," he said. "There was nothing going on back then. There was no lawsuit. There was no rift. In October he threw a birthday party for her even." He added that they've always been on good terms. "I don't know if they're in touch. She considers him a friend. I'm sure he feels the same way," Nehoray said.
Meanwhile, Sterling is having another rough day — and not just because the always classy New York Post has a story alleging that he's battling cancer, which starts with the line, "This could wind up being a pretty short ban." (Let's not even get into Inside Editon's underwear photos.) Earlier on Thursday, the NBA's advisory/finance committee, which is made up of ten fellow owners, held its first meeting to discuss the process for forcing Sterling to sell the Los Angeles Clippers. According to NBA executive vice president Mike Bass, the committee unanimously agreed to "move forward as expeditiously as possible," and will meet again next week.