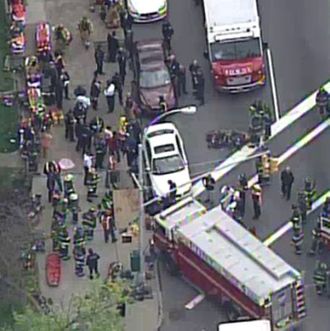 An F train running express went off the tracks around 10:30 a.m. on Friday near 65th Street in Queens, injuring more than a dozen people, at least four seriously, the AP reports. Rescue workers helped out riders stranded below ground through a sidewalk grate, and many people appeared to be walking away just fine based on the view from NBC New York's news helicopter. Much of the subway system experienced delays.
The train was carrying about 1,000 passengers. "It started with a little bit of turbulence," one told the AP. "I saw sparks coming out of the right side of the train. And then the train tilted a little bit. There was lot of noise, banging and then it felt like we hit the side wall."

Some photos from the scene:
This post has been updated throughout.