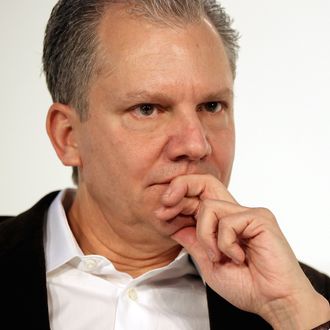 Photo: Miguel Villagran/Getty Images
On Monday evening New York Times publisher Arthur Sulzberger Jr. continued his effort to reclaim the narrative following Jill Abramson's abrupt firing last week, offering his first public comments on the debacle (aside from statements issued by the paper). Sulzberger said little about Abramson's contributions to the paper last week, but while speaking at a Reporters Committee for Freedom of the Press dinner, he praised her for being "a powerful and outspoken advocate for a free press." He added that Abramson, "has been one of the most forceful voices in challenging the secrecy of the Obama White House and the initiation of criminal leak investigations. I will always admire Jill's commitment to this issue and be grateful to her many contributions to the journalism of the New York Times." Just a few hours later, Vanity Fair published an interview in which Sulzberger bashed Abramson's management style, and reports that suggested sexism played a role in her dismissal. "I'm not going to let lies like this lie,"  he said.
In his interview with Vanity Fair's Sarah Ellison, which was conducted on Sunday afternoon, Sulzberger emphasized that "a lot of what's out there is untrue" – particularly the sexism allegations. Sulzberger said he found it "weird" that Abramson hired a lawyer to press the issue of pay disparity, but it was not a factor in her firing. He also argued, once again, that Abramson's overall compensation was on par with that of her male predecessors. Per Vanity Fair:
In his office, he told me that when the Times Company sold the Boston Globe, in August 2013, two years after Abramson had become executive editor, Abramson and her counterpart on the editorial page, Andrew Rosenthal, joined the executive committee of the company, a move that significantly increased her bonus. As a result, he said, "salary was a decreasing percentage of her overall compensation." The increase in her bonus helped boost her overall compensation, according to the Times, to a level more than 10 percent higher than Keller's had been during his last full year as executive editor, in 2010. As noted, it is impossible to fully evaluate this claim, given that the Times will not release specific information, but Sulzberger is firm on the point: "There is no truth to the charge" that Abramson was paid less than her male counterparts.
While Sulzberger admitted that the paper improved journalistically during Abramson's tenure, his remarks mainly focus on her failings as a manager. When Ellison noted that the Times has had its share of "pushy" male executive editors in the past, Sulzberger said that today editors must have excellent journalism skills "as well as managerial skills to be figuring out how to get the data to help us deliver news in a digital age." In the '70s, "You could make it work. That's no longer true. The standard has to be different."
Sulzberger said that "when you have someone who is talented and doing a good job journalistically, you try to keep them," but eventually realized that the situation had become "very frayed with Dean [Baquet], and the rest of the masthead." He referred to the attempt to hire The Guardian's Janine Gibson as "the wave,"saying Baquet's complaint about being kept out of the loop left him worried that he might leave. "At that point, we risked losing Dean, and we risked losing more than Dean," Sulzberger said. "It would have been a flood, and a flood of some of our best digital people." He offered Baquet the executive editor job, and informed Abramson that he was making a change the next day.
Ellison seems unconvinced. She noted that Abramson had been a manager at the Times for years when Sulzberger selected her for the top position in 2011, and commented that "the narrative that vilifies Abramson and deifies Baquet seems very neat — conveniently neat."
Sulzberger's story also conveniently frees him from any blame. When pressed on whether he wishes he had promoted Baquet rather than Abramson back in 2011, he admitted, "Of course I would have done it differently." Yet, later in the interview, he denied that there were any issues with his own management skills, though he's now promoted and fired three top managers – Abramson, executive editor Howell Raines, and president and CEO Janet Robinson – in the past decade or so. "The question is, am I doing a bad job of picking leaders for the New York Times? I don't think so," he said. "Everyone who pretends they have a 100 percent success rate isn't trying hard enough."