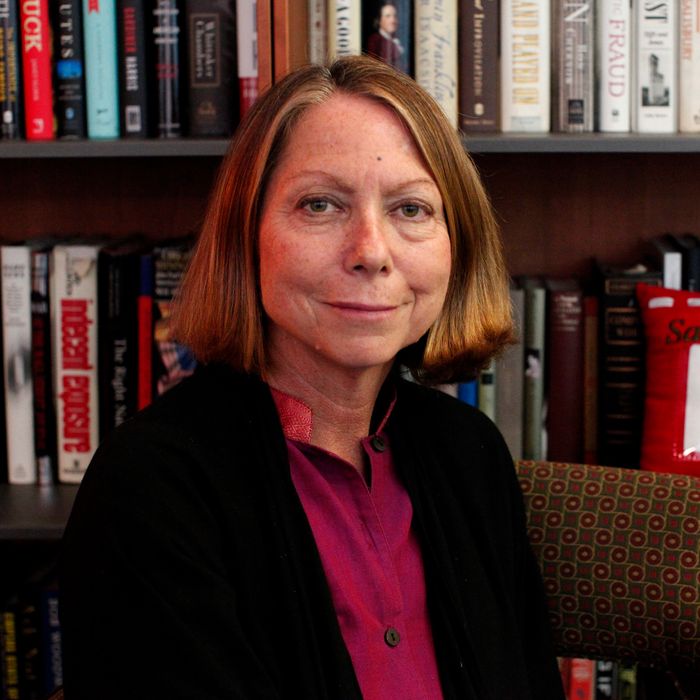 Photo: REUTERS/Kena Betancur
For the past six months, Jill Abramson walked the newsroom like a woman under siege. "She was feeling it and was exhausted," one close colleague said. She sometimes mused to colleagues that her days as executive editor of the New York Times were numbered. "Jill had started to tell people she would step down after the election in 2016," one Times staffer said. "She didn't think she would be there until her 65th birthday," another explained.
Abramson, who is 60, didn't make it to the midterms.
Yesterday, at 2 p.m., Arthur Sulzberger Jr. summoned the paper's senior editors to a meeting on the third floor of the newsroom to inform them that Abramson was being ousted and replaced by her No. 2, Dean Baquet. The unexpected news stunned the newsroom. She'd been a difficult boss by all accounts, but where the departure of Howell Raines a little more than a decade before had occasioned glee, now there were ambivalence and sadness and subterranean newsroom schisms. She'd promoted a generation of allies, many of them women, and made enemies, too. "I was shocked," a high-level editor told me. "And anybody who says they knew it was coming is lying."
Sulzberger's vague suggestion of "management" issues only intensified the vortex of speculation and a search for a single smoking gun — a conflict or breach so serious it would explain Sulzberger's dismissal of his historic hire, which was even more surprising given the excellence of the paper she was producing. The pay disparity issue that Ken Auletta reported in The New Yorker was certainly one area of conflict — but the bucket was bigger. "The unbelievable thing is that there actually is no 'cause' for this — no single thing, nothing," a colleague said. "It was just a lot of accumulated backbiting."
As in many matters involving the executive editor of the New York Times, the story is as much about Arthur Sulzberger Jr. as his employee. Abramson's problems with Sulzberger began even before she was appointed. One Times person told me that, in the spring of 2010, Sulzberger openly embarrassed her in a meeting with top Times staff. Abramson was so livid about it she told Janet Robinson, the then Times CEO, that she was going to leave the paper. "Jill went to Janet and told Janet she had enough of Arthur and had an offer to go," the source explained. "Janet patched things up."
When former executive editor Bill Keller informed Sulzberger he planned to step down, Sulzberger hesitated to appoint Abramson, who had seniority at the paper, where it's important, to replace him. He toyed with choosing Baquet, whom many in the newsroom knew. "When Arthur picked Jill, it was by the slimmest margin," a person close to the talks said. "He really wrestled with that decision."
Abramson's appointment in June 2011 triggered a flurry of positive profiles — which seemed to bother Sulzberger. "He does not like people who promote themselves," a person close to Sulzberger said. "There was a threshold that was crossed," this person said. "It was an interview she did with Alec Baldwin." At one point, Sulzberger went to the Times PR department and asked an executive when Abramson was going to stop doing interviews. Janet Robinson, another historic female appointment and an Abramson ally, was dismissed by Sulzberger in December 2011, partly, some Times people say, owing to her own carefully cultivated media footprint.
After a prolonged search in which the Times was without a CEO, casting an uncomfortable spotlight on Sulzberger, he finally chose former BBC director general Mark Thompson. After Thompson had been hired for the job but before he'd started, Abramson sent Matthew Purdy, a hard-charging investigative reporter, to London to examine Thompson's role in the Jimmy Savile scandal at the BBC. Abramson's relationship with the two executives never recovered. "Mark Thompson was fucking pissed," a source explained. "He was really angry with the Purdy stuff." So was Sulzberger. "He was livid, in a very passive-aggressive way. These were a set of headaches Jill had created for Arthur."
Sulzberger had brought Thompson in to be a turnaround artist, rethinking the newspaper's role in a media world evolving at hyperspeed. But Thompson's role as house philosopher grated on Abramson. A particular flashpoint was Thompson's emphasis on video. Abramson was skeptical. "Jill does not like video," a person familiar with her thinking told me. "She thought there is nothing more boring than two print people talking in front of a camera about a story you can you read in a minute."
Although both have denied it in public, Thompson and Abramson's relationship spiraled down over the past year, as Thompson pressed ahead with plans to move the Times into native advertising. "She was morally opposed to that," an executive said. "She told me it would not happen on her watch." "She conflicted directly with Thompson on numerous occasions," an Abramson colleague said.
As Abramson battled Thompson, she also squared off against her deputy, Dean Baquet. "Her relationship with Dean was never ideal," a senior staffer said. The complicated relationship spilled into public when Politico published a controversial piece last April that detailed Baquet punching a wall in frustration after one encounter with Abramson — an outburst instigated by some front-page stories Baquet had approved, which Abramson critiqued with one word: "boring." In recent months, Baquet let it be known in the newsroom that he was miserable in the job, a source told me. He was said to have been angered that Abramson was recruiting Guardian editor Janine Gibson to be in a co-managing editor position without consulting him (though one colleague said that both Thompson and Sulzberger had signed off on the decision itself), and his displeasure reached Sulzberger. And this spring, Baquet told colleagues that Bloomberg was recruiting him to oversee the news service's Washington coverage.
Though he was unlikely to leave, the loss of Baquet — well liked in the newsroom and well liked by Sulzberger, the heir apparent to the paper and another historic choice — would have been a blow. Whether this was the ultimate trigger leading to Sulzberger's decision is impossible to know. But it is difficult not to view the situation as in some sense a choice of Baquet over Abramson, and a decision forced implicitly by Baquet. 
Other dynamics may have been in play, too. In the past six months, Arthur's son, Arthur Gregg Sulzberger, has been leading a task force to prepare a report on the newsroom in the digital era, which was made public last week. It includes a panoply of mostly sensible suggestions — but the fact that the son of the publisher was interviewing Abramson's employees at a time when their relationship was in turmoil cannot have helped the situation. And Sulzberger's son, thought to be his probable successor, was by the end of his fact-finding intimately aware of feelings (and dysfunction) in the newsroom to an extent that has often eluded the Sulzbergers (most notably during the Raines era). 
Still, it was the cold abruptness of the firing that has the newsroom stunned. For now, Sulzberger, Thompson, and Abramson are remaining silent on the ultimate causes of her firing. But the awkward mercilessness of Abramson's forced exit, echoing the departure of Janet Robinson, has become a hallmark of this era of the paper. "This is incredibly un-Times-ian," one female staffer told me. "It's an undignified, unceremonious way to handle this. There's many people who feel that."
*This article appears in the May 19, 2014 issue of New York Magazine.