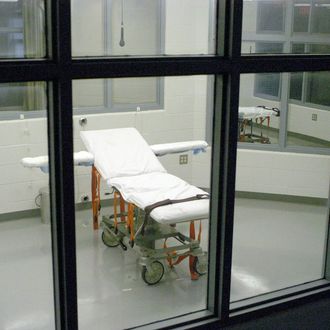 Photo: Stephen Lance Denee/AP
Missouri death-row inmate Russell Bucklew got another reprieve on Wednesday night when the Supreme Court sent his case back to the Eighth Circuit Court of Appeals. Bucklew says that due to a rare medical condition, a lethal injection may constitute cruel and unusual punishment. After a lower court rejected that claim, Supreme Court Justice Samuel Alito issued a stay of execution on Tuesday night almost literally at the 11th hour. Missouri had until midnight on Wednesday to carry out the execution, but the Supreme Court's decision means Bucklew's execution will be postponed indefinitely.
The Supreme Court's three-sentence order gave no reason for the ruling, and said it's now up to the Appellate court to decide whether to hold a hearing on Bucklew's case. The 46-year-old was found guilty of raping his ex-girlfriend and murdering her new boyfriend in 1996.

Attorney Cheryl Pilate, who represents Bucklew, said she was "extremely pleased and relieved" by the decision. "What this means is that the appeals court will hear Mr. Bucklew's claims under the Eighth Amendment that he faced a great likelihood of a prolonged and tortuous execution because of the unique and severe medical condition that causes vascular tumors to grow in his head and throat," she said in a statement.
Bucklew's execution would have been the first to take place in the United States since the botched execution of Clayton Lockett in Oklahoma. The next executions in the U.S. are scheduled to take place on June 18 in Missouri, Florida, and Pennsylvania.