The 52-story, 799-foot-tall office building at 555 California Street in San Francisco doesn't look like a tech office. It was built in the 1960s as the world headquarters of Bank of America, and is the kind of majestic, spare-no-expense skyscraper that reflected a growing country's mid-century ambitions. The structure's architectural heft, as well as its central location in San Francisco's financial district, is what's caused big banks and law firms to flock there over the years — Goldman Sachs, Morgan Stanley, and UBS are just a few of the corporate tenants who have paid a premium to be in a building with upscale amenities, 24/7 security, and a Starbucks on the ground floor that opens at 4 a.m., so that traders working New York hours can get their pre-market caffeine fix.
Today, a different kind of company is moving in to 555 California Street, and to other old-line luxury office buildings across the city. Huge tech firms like Microsoft and LinkedIn are spreading out — and up — to large plots of San Francisco commercial real estate, and the tech industry, which once took pride in its sprawling suburban campuses, is looking more urban than ever.
Silicon Valley was once the spatial home of tech. If you wanted to set up a new start-up or expand an existing one, you called up a real-estate broker and leased an office in Mountain View, Menlo Park, San Jose, or one of the other cities 30-ish miles south of San Francisco, where space was plentiful and rates were relatively cheap. There were some pretty campuses in Silicon Valley — the Googleplex sparked a wave of colorful, perk-filled imitators — but many tech firms lived in one of hundreds of boring, nondescript office parks along the Route 101 corridor.

These days, tech companies are increasingly setting up shop in San Francisco itself, and shelling out for unconventional office spaces with design quirks and a faux-rustic look. Partly, this is an HR move — many of their current and potential workers are San Francisco residents who enjoy the city's nightlife, restaurants, and public transportation, and don't want to waste upwards of two hours a day commuting to the South Bay (no matter how tricked-out the corporate shuttle is). And partly it's because cities are on the rise all over the world — the great urban migration of the coming decades is going to bring many formerly urban industries out of their low-slung suburban offices and back into skyscrapers and parking garages — and tech wants to be where the action is.

"So much of tech companies' success is about innovating," says Julia Georgules, a real-estate market researcher at Jones Lang LaSalle. "To innovate, they need the talent, and to get the talent, they need to be in a cool building in SoMa."

At least two dozen companies have moved to San Francisco from Silicon Valley in the last two years, and many more have opened up urban satellite offices. Salesforce is building its gigantic tower, of course, but there are other Silicon Valley tech companies expanding their San Francisco footprints — LinkedIn, Amazon, Yahoo, even Google. Meanwhile, the old San Francisco economy is scaling back to make room. Bank of America is dropping its lease at 555 California Street from 600,000 square feet to 260,000 square feet, and Charles Schwab, the megabrokerage, is considering moving out of San Francisco altogether. As with residential real estate, the tech-driven demand for San Francisco commercial real estate has pushed up prices considerably — here's a chart showing how the city's average office rents are pulling away from those in Silicon Valley: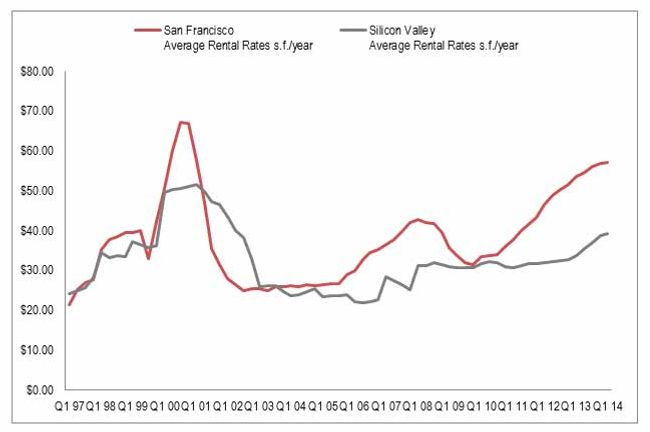 Just as "Wall Street" became a misleading moniker for the financial industry when most of the big banks relocated their New York offices to Midtown, so too is "Silicon Valley" now being used as a metonym for a tech industry that, increasingly, doesn't work there. According to reports by market research firm Kidder Mathews, Silicon Valley lost a net total of 177,990 square feet of occupied commercial real estate in the first quarter of 2014, while San Francisco added 350,000 occupied square feet. 
As tech companies take over San Francisco's commercial real estate, they're demanding big changes. No more stuffy luxury buildings with doormen in suits — they want vintage millwork, restored log cabins from the 1800s, and enclosed cabanas for private work. Remaking an old-line building for a fussy tech tenant can often take months and cost millions, and that's before the start-up brings in its own interior designers to install custom kitchens and game rooms with air-hockey tables.
"[555 California Street] is a building that works extraordinarily well for the traditional financial services tenant," says David Greenbaum, the president of the New York office of Vornado Realty Trust, which owns the building and is reportedly planning to "put some edge" into it by removing drop ceilings and refurbishing outdated floors. "But at the same time, we have a real opportunity to make the building attractive to tech tenants."

To woo tech firms, property managers have been transforming their buildings into what's called "creative tier 1" office space — a category that comprises buildings that are well located and packed with amenities, but have history and quirk, and an aesthetic appeal that goes beyond the traditional glass-and-steel façade. Airbnb's office — a former Jewelry Mart on Brannan Street that has been retooled as a wacky start-up nirvana — qualifies, as does Twitter's mid-Market office, which used to be a furniture store.

These rustic, neo-industrial buildings command a higher price than traditional upscale office space — up to $65 per square foot, compared to $50 or so for a typical tier 1 building, according to Georgules — but there are much fewer of them to go around. When these buildings aren't available, tech tenants have had to make do with luxury high-rises, aided by some creative trompe l'oeil.

"These traditional high-rise office buildings, if they tear down offices, take out drop ceilings, take out the carpet, paint it something that's not an institutional color, they have a lot of success," Georgules says. "Paint all the pipes white, and all of a sudden it looks cool and industrial."
Despite the influx of tech into the San Francisco city limits, Silicon Valley isn't dead yet. Apple is building a gigantic, 2.8-million-square-foot spaceship of a campus in Cupertino (at a reported cost of $1,500 per square foot). Samsung is building in Mountain View, and Facebook's Frank Gehry–designed Palo Alto office is slated to open next year. For companies with tens of thousands of employees, moving to the city simply isn't cost-effective, no matter how tempting the architecture is.
But for small start-ups, midsize companies that want to attract urban-dwelling engineers, and large firms that can afford the headache and cost of building in the city, San Francisco is the place to be. The tech migration has required some adjustments — old-school landlords getting used to a shabby-chic aesthetic, and techies sharing elevators with pinstriped fat cats. But real-estate bubbles have a way of forcing even strange bedfellows to get along.
"Is there any reason that kind of tenant can't live in the same building as a financial-services tenant? I don't think so," says Greenbaum. "It's entrepreneurs thriving in the same location."