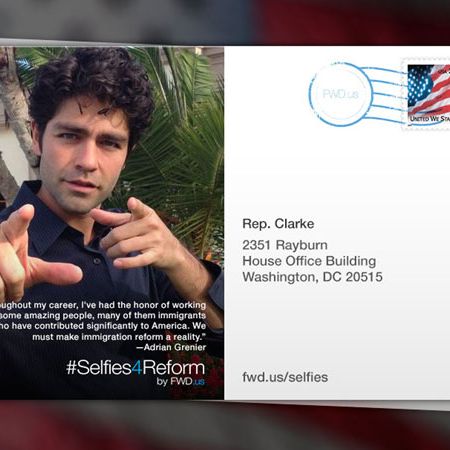 Photo: fwd.us/selfies4reform_launch
Earlier this year, I wrote about how Silicon Valley executives were beginning to make inroads into traditional progressive politics, taking their roles as trendsetting technologists seriously and trying to port some of their operational know-how into issues such as immigration reform, job growth, and education. Tech elites didn't just want to be moneyed check-signers; they wanted to roll up their sleeves and make a real difference by setting up roundtable meetings with President Obama, backing tech-centric candidates for office, and flexing the policy muscles of organizations such as fwd.us, the Mark Zuckerberg–led advocacy group.
This week, apparently determined to erode my optimism, fwd.us rolled out a new immigration campaign called "#SelfiesForReform." It's exactly what it sounds like: an app that allows people to take selfies in support of immigration reform. The app sends those selfies to fwd.us, which will then print them and mail a postcard to a user's Congressional rep.
Here, for example, is hair icon Jared Leto, writing to his congressman about the need for comprehensive reform: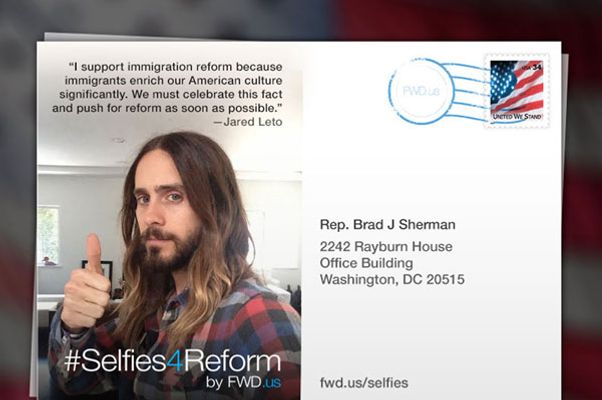 #SelfiesForReform is no more silly than any of the other attempts to get millennials onboard with gridlocked policy initiatives — Fix the Debt's ridiculous "Can Kicks Back" campaign comes to mind. But it's probably not going to move the needle much. If Chuck Schumer can't break a stalemate with House Republicans on immigration reform, it's hard to imagine that Chris Tucker and Adrian Grenier will. (Although fwd.us is, I should mention, doing more substantive things to support the cause of immigration reform, like holding summits with farmers and Latino immigrant groups in California.)
To its credit, fwd.us is also backing a non-trivial bit of immigration reform awareness-raising in the form of Documented, a nonfiction film by journalist Jose Antonio Vargas — who was the subject of this week's 21 Questions. Documented opens at the Village East in Manhattan tonight. No selfies required.