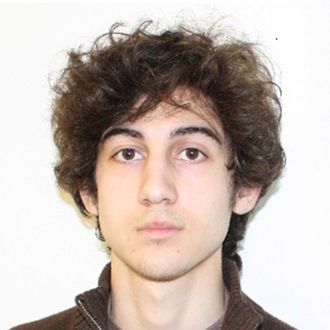 Over a year after the Boston Marathon bombings, the long process of building a case against Dzhokhar Tsarnaev continues. On Wednesday, the United States Attorney's Office filed court documents that included the note Tsarnaev wrote while hidden from the authorities in that boat in Watertown. NBC affiliate WHDH reports that Tsarnaev mentioned his brother, Tamerlan, who was killed after a shoot-out with the police:
"I do not mourn because his soul is very much alive. God has a plan for each person. Mine was to hide in this boat and shed some light on our actions."

Tsarnaev went on to write "…we Muslims are one body, you hurt one you hurt us all… know you are fighting men who look into the barrel of your gun and see heaven, now how can you compete with that.
The new documents also include a request that the judge deny the 20-year-old's motion to declare the death penalty — a punishment he is facing — "unconstitutional."
Prosecutors also argued against the defense's motion to suppress statements Tsarnaev made right after he was arrested, when he was lying in a hospital bed without a lawyer. In addition to arguing that investigators had to interview Tsarnaev immediately in order to determine that he didn't have other accomplices preparing to carry out further terrorist attacks, they maintained that their questioning was not "coercive." Tsarnaev "readily admitted involvement" in the bombings, according to the materials submitted by the U.S. Attorney's office, which also noted that agents "took steps to increase his comfort, such as removing his handcuff every time they entered the room, adjusting his pillows as needed."