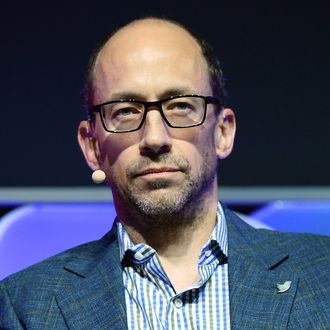 CEO Dick Costolo doesn't need the money, but he can sell anyway.
Photo: Ethan Miller/Getty Images
Twitter's stock price is hurting today — it's down 10 percent, to its lowest price since going public — which would normally be cause for concern among company insiders. But today also happens to be the day that Twitter's final lockup finally expires, meaning that Twitter's own employees — newly allowed to sell their Twitter stock on the open market — are probably the ones doing a lot of the selling.
Post-IPO lockups are interesting things. They're meant to keep informed insiders from subverting shareholder interests, but at large tech companies, they often have the effect of creating a group of highly unmotivated employees who do nothing but twiddle their thumbs, look busy, and wait until they can call their broker and turn their paper millions into real millions. (See last week's episode of Silicon Valley on HBO for an example of the "rest and vest" philosophy.)
Anyway, all those Twitter employees are free to sell now, which is good news for them, and also for the myriad financial advisors, Tesla salesmen, real-estate brokers, and long-forgotten college friends who are about to descend on them like a plague of locusts. Twitter co-founder Evan Williams and several other large Twitter investors have publicly stated that they won't sell today, but they don't need the money. It'll be tough to persuade impatient, cash-hungry engineers not to run for the exits as soon as they're allowed.
The bad news? Today's stock slide means it's a terrible time for Twitter shareholders to sell, insider or no. Those rank-and-filers might want to take a page out of their co-founder's book and wait for a more opportune moment to make themselves rich.