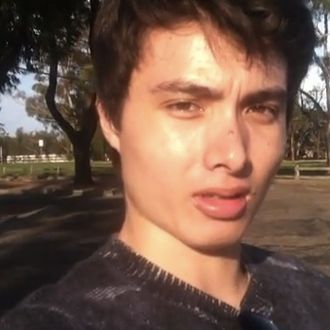 Just before he began he began randomly shooting his classmates in Isla Vista on Friday evening, Elliot Rodger forwarded a few dozen people his 141-page manifesto detailing his "twisted world" and plans for a "day of retribution" near UCSB. Among the recipients were Rodger's parents, who then raced toward Santa Barbara in a futile effort to stop their son from following through with his threats.
Simon Astaire, a Rodger family friend, told the New York Times that the shooter's mother, Li Chin, opened the email from Elliot at 9:17 p.m. on Friday after getting a call from the young man's therapist, who had also received the manifesto. After checking her son's YouTube page and seeing his disturbing confession video, Li called her ex-husband, Peter Rodger, and then 911. The parents started the hour-and-a-half drive from Los Angeles to Santa Barbara and learned that the shooting had already happened while they were still on the road.
Another family friend (as well as their former lawyer), Alan Shifman, told CBS LA that he was with Peter and Li when they got official word that Elliot had been responsible for the massacre, which killed six people (including the three young men found stabbed to death in his apartment) and wounded thirteen others. "I had never been involved in anything like that in my life," he said of the "excruciating time" he spent with the pair as they waited for confirmation that their son had committed suicide.  
Friday was not the first time that the mother had tried to prevent her 22-year-old from hurting other people. In April, Li called Rodger's therapist after coming across his YouTube videos. According to CNN, the therapist then contacted a Santa Barbara mental health hotline, which sent the police to check up on Rodger. However, the officers who interviewed him reported that while Rodger admitted that he was having trouble socializing, he seemed calm and lucid and "did not meet the criteria for an involuntary hold."
Rodger recalled the episode in his manifesto, writing, "I had the striking and devastating fear that someone had somehow discovered what I was planning to do, and reported me for it … If that was the case, the police would have searched my room, found all of my guns and weapons, along with my writings about what I plan to do with them. I would have been thrown in jail, denied of the chance to exact revenge on my enemies. I can't imagine a hell darker than that."
On Saturday, Santa Barbara Sheriff Bill Brown told CBS's Face the Nation that because Rodger seemed normal enough, his officers didn't have grounds for searching the apartment. "And obviously, looking back on this, it's a very tragic situation, and we certainly, you know, wish that we could turn the clock back and maybe change some things," he said. "You want to certainly intervene and obviously try to prevent a tragedy such as we've experienced here. On the same token, you don't want to stigmatize people who are seeking treatment for mental illness and you don't want to prevent them from doing so because of the potential stigma that's attached."
Astaire also told CNN that Rodger had been in therapy off-and-on since he was 8 years old, and that he saw a therapist "pretty much every day" when he was in high school. He added that the shooter had always been "reserved to a daunting degree," though he had never appeared violent or fascinated with weapons. "Guns were never part of the dialogue," Astaire said.