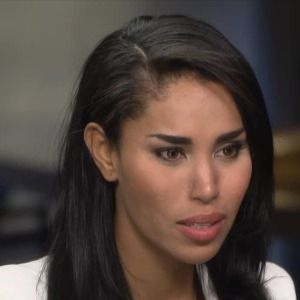 A few days ago, V. Stiviano, visor-enthusiast and alleged girlfriend to Donald Sterling, said that she was "very saddened" that a recording of the octogenarian Clippers owner yelling at her for posting photos of black people to Instagram led to him being banned from the NBA for life. In her Friday evening interview with Barbara Walters, Stiviano again seemed weirdly protective of the famous racist.
She told Walters that Sterling is feeling "confused," "very alone," and "emotionally traumatized" after the events of the past week. She also said that — despite all the evidence to the contrary — she doesn't believe that the old man is a racist. "I think Mr. Sterling is from a different generation than I am. I think he was brought up to believe these things … segregation, whites and blacks," Stiviano said. "But through his actions he's shown that he's not a racist. He's shown to be a very generous and kind man." Still, Stiviano agreed that Sterling should "absolutely" apologize for sharing his perspective.
Stiviano, who maintains says that she did not leak the audio of Sterling's rant, also said that she sees him as a "father figure," and that their relationship isn't romantic. Describing herself as Sterling's "archivist," "right hand," and "silly rabbit," the 31-year-old said that she tried "to help him become a better person," as Walters put it. "There are certain things that I wouldn't allow Mr. Sterling to say that could hurt him," Stiviano explained. "I became part of Mr. Sterling's team. I became someone who protected him, someone who took care of him, someone who watched everything he said and did, and people did not like that. People were used to Mr. Sterling being Mr. Sterling — and here comes V., and everything changed."
Based on what she said in the interview, Stiviano is still in contact with Sterling, who reportedly regrets that he didn't "just pay her off." She also remains the target of a lawsuit brought by Sterling's wife, Rochelle, who isn't happy about the $1.8 million apartment and other lavish gifts the younger woman received from her husband over the last few years. And she told Walters that she and Sterling had "a number of other hours" of conversations "just like" the one that went public, suggesting that there's more dirt on tape somewhere. So, while it's difficult to identify the exact angle Stiviano is working by telling the world she still cares about Sterling, we'd like to think that it's just part of her big plan.