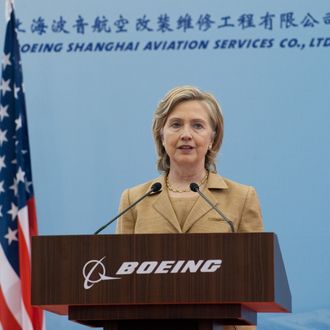 Photo: SAUL LOEB/2010 AFP
Maggie Haberman reports that Hillary Clinton is holding a fund-raiser for Marjorie Margolies, a former member of Congress and current Clinton in-law, at the home of Lynn Forester de Rothschild. The baroness has previously carved a niche as America's most embittered supporter of the 2008 Hillary Clinton campaign. First, in an attack that left irony bleeding profusely on the sidewalk, she charged that Obama "has a huge problem connecting with ordinary Americans" and "radiates elitism." Then — further undermining her already shaky standing as scourge of elitists everywhere — Forester attacked Obama for raising taxes on the rich in order to give money to people "who pay no taxes at all." She also campaigned for the McCain-Palin ticket ("I love Sarah Palin … I think she's pretty cool").
It is heartwarming to see that these things have not stopped her and Clinton from rekindling their relationship.