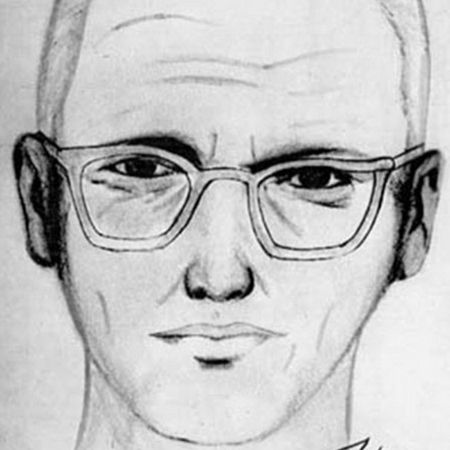 Earl Van Best, Jr. vs. the Zodiac Killer
The Zodiac Killer, whose serial murders terrorized northern California in the late '60s, was a man named Earl Van Best Jr., according to a new book by Gary L. Stewart, who happens to be his biological son. Stewart's The Most Dangerous Animal of All, as we reported Monday, is for sale now from HarperCollins after a top-secret rollout. "I'm really hoping this will bring some closure to the families of my father's victims," Stewart tells People.
Although many others have claimed to know the killer's identity over the years, Stewart's publisher calls his book's case "legally sound" — here's some of the evidence within.
• "If you look at Gary's photo next to the sketch of the Zodiac next to his father's mug shot, you can see that there is very clearly more than just a passing resemblance," a HarperCollins spokesperson told Elon Green. "They look alike."
Best, a now-deceased antique book seller, had been arrested for fraud and the rape of a minor after he tried to elope with Stewart's mother, who was 13 at the time. After Best left her, she gave the child up for adoption, and it was Stewart's search for his biological father that led him to supposedly crack the unsolved case.
• According to a Daily Mail report on the contents of the book, Stewart found the words EV, Best, and Jr in one of the cryptograms that the killer sent to the San Francisco Examiner, claiming it contained his identity. The name also popped up backwards in a different code, and the odds of that being a coincidence, Stewart claims, are "astronomical."
• Stewart says his father's fingerprints match those found at the crime scene, as both have a diagonal scar.
• A handwriting expert also tied Best's signature on his marriage certificate to letters the killer sent to media.
• And in the wildest twist of all, Stewart says that his mother, Judy, went on to marry one of the lead homicide investigators on the Zodiac case, Rotea Gilford, after being with Best as a teenager. The author suggests this connection could have embarrassed the San Francisco Police Department and caused them to "shut down" the investigation. The police "knew more than they're willing to admit," a HarperCollins spokesperson says.
• Stewart says he's awaiting DNA tests to see if his matches the DNA found at the crime scenes. Why wait for the results? Because there are books to sell in the meantime. "It will be interesting to see what happens," he writes.
"It's an open and active case, so we don't comment," a San Francisco police spokesperson told CNN. "But [it's] certainly something our homicide investigators will take a look at."