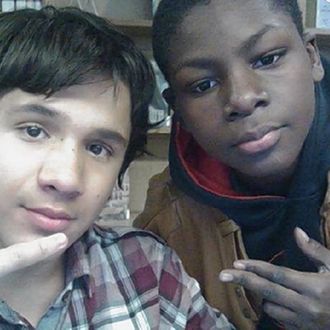 Noel Estevez and Timothy Crump.
On Wednesday afternoon — just days before the start of summer vacation — 14-year-old Timothy Crump jumped his classmate, 14-year-old Noel Estevez, outside of the Bronx's Joseph Wade Middle School. Noel fought back by kicking and punching the other boy and, finally, used a kitchen knife to stab him several times in the stomach. Timothy died shortly after at a nearby hospital. On Thursday, Noel was charged as an adult with manslaughter and second-degree murder in a Bronx courthouse where his lawyer, Eric Poulos, said that Timothy had been bullying and harassing his client for months. And, on Friday, amid reports that Noel's family had repeatedly — and unsuccessfully — asked the authorities for help, Mayor de Blasio called for an investigation into how the tension between the two boys was allowed to turn deadly.
According to the police, as well as Estevez's family friends and neighbors, Timothy and Noel had once been friends, though they had a falling out. Their final confrontation was over Timothy's iPhone, which Noel had borrowed and was for some reason unable to return. "Timothy is believed to have asked for the phone's return or financial compensation," an official told the New York Times.
However, Wednesday's fatal fight was preceded by a pattern of trouble. Noel, who is said to suffer from a speech impediment and Tourette syndrome, had recently "missed so many classes that the city's child welfare agency was alerted," according to the Times. In May, he was reportedly diagnosed with depression and bipolar disorder after he tried to commit suicide. Poulos said on Thursday that Noel had been staying "behind closed doors" because he feared a group of kids that included Timothy. From the New York Daily News:
Estevez's tormentors mocked him with homophobic taunts, hacked away his hair, pushed him down stairs and scrawled crude messages on his apartment door, said another neighbor.

"They would say his mama's a crackhead," said Erica Jones, 33. "They would say, 'You're stupid, you should just kill yourself.' If he didn't have that knife, he would have been dead."
Jorge Guerrero, a porter in the Estevez's building, said that the kids repeatedly urinated outside the family's apartment. A family friend, Milagros Arroyo, said that the group called and came by Noel's home "constantly."
Witnesses told the Times that the NYPD, the Administration for Children's Services, and the school had all been made aware of the attacks. Though the police said that they had only been informed of Noel's problems until after Timothy's death and the ACS wouldn't comment, the defendant's parents were so worried about the situation that they repeatedly asked Joseph Wade to grant their son a "safety transfer" to another school. Noel's father, Felix Estevez, reportedly made that request again on the night before Timothy was killed.
"Protecting children in crisis is one of the most fundamental responsibilities we have, and we will make sure these families and this community have the answers they deserve," said de Blasio as he ordered an examination of how every agency that came in contact with Noel and Timothy responded. Meanwhile, an adult witness to the stabbing summed up the miserable incident to the Daily News: "It's two young people losing their life," he said. "One is going to the cemetery. One is going to jail."