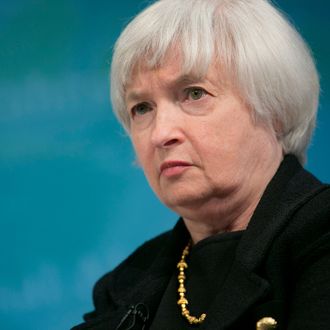 Photo: Andrew Harrer/Bloomberg via Getty Images
Today's Wall Street Journal features hilarious, practically parodic complaints from neighbors of Fed chair Janet Yellen, who just don't understand why she needs such fat and sloppy security guards. This is a Georgetown gated community, crotchety residents say, and there are rules here (50 pages of them, including a two-pet maximum). And Yellen's massive security detail, with their visible fast food, giant, leaky vehicles, and "doughnut bellies" are just an eyesore.
According to one neighbor — who was granted anonymity "because she is worried about federal-government reprisals" — "we have this group, overweight, wearing the most ridiculous blue uniforms with the most ridiculous blue caps, and they have guns that are visible." Meanwhile, their vehicles idle for "approximately 22 minutes daily," according to an official complaint, and then pull out "speedily … all the while spilling fluid onto the street, which has now left a permanent stain," against the neighborhood's explicit "no car fluid stain" rule (seriously).
It's not even like they keep the place safe. According to another neighbor, "these characters are only here for Janet Yellen. They're not going to be distracted by robbers, rapists or any other thing. Besides, these guys couldn't catch a thief if their lives depended on it." The body-shaming by this homeowners' association is really unprecedented.
While each and every petty quote — on the front page of The Wall Street Journal! — is a gem, the board president summed up the situation best: "I'm kind of embarrassed for the neighborhood, quite frankly," she said. Although if even one guard hits the gym, it will have been worth it.