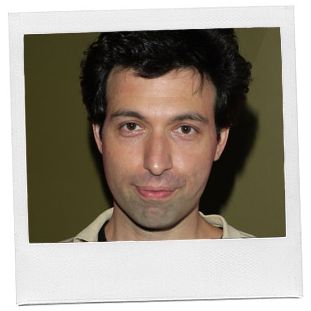 Photo: Andrew Toth/Getty Images
Name: Alex Karpovsky
Age: "Age is a medical condition."
Neighborhood: Greenpoint
Occupation: Actor and filmmaker. Tonight at 8 p.m. you can catch him at Littlefield as a guest on the comedy talk show Running Late With Scott Rogowsky.

Who's your favorite New Yorker, living or dead, real or fictional?
Melville. Moby Dick is probably my favorite book. The monomania appeals to me.
What's the best meal you've eaten in New York?
The Hometown Brisket Pizza at Paulie Gee's. Have you been there? It's this great pizza joint down by the water if you're in Greenpoint, and they make these weird and interesting pizza pies. Paulie comes around and gives you limoncello after the meals, on the house. It's really fun.

In one sentence, what do you actually do all day in your job?
Remind myself of the differences between myself and my character.

What was your first job in New York?
Right after grad school, I worked for an Internet start-up that sold teddy bears from a school bus.

What's the last thing you saw on Broadway?
The House of Blue Leaves. Loved it. I went because Chris Abbott, who used to play Charlie on Girls, was in it. I go to plays every blue moon and Broadway plays are even rarer, for whatever reason.

Do you give money to panhandlers?
Sometimes.

What's your drink?
Cranberry and soda.

How often do you prepare your own meals?
Twice a day. I'm always tinkering with my breakfast. Right now it's like tomatoes, cucumbers, hard-boiled eggs, and feta cheese in a pita. I top it off with olive oil and Sriracha, and it's pretty damn good.

What's your favorite medication?
Caffeine.

What is the best thing in or about your apartment?
My wooden shoe rack that used to be a kosher candy rack.

What's the craziest thing you've ever seen on the subway?
A Jewish teenager screaming "showtime" and then dancing without music.

When was the last time you stayed out past 3 a.m.?
A few days ago on the solstice, after my friend's birthday. I was stumbling home at like 4 or 4:30 and the sun was already coming up. It was pretty neat.

Which do you prefer, the old Times Square or the new Times Square?
Come on.

What do you think of Mayor de Blasio?
I think he's a genuine progressive that can actually get stuff done. I believe.

What do you hate most about living in New York?
Mountain-less horizons.

If you could banish one person from New York forever, who would it be?
The girl that took my virginity because she didn't know she took my virginity and if she came here the likelihood of her finding out she took my virginity will skyrocket and that would be very embarrassing for me because of my age at the time when I lost my virginity.

When's the last time you drove a car?
Today. I have a Toyota Matrix — bought it off my mom a few years ago. It's not sexy, but it's got a hatchback and I move stuff a lot, so it's good.

Finish this sentence: The NYPD _____.
Towed my car two weeks ago and created over $2,300 in damage.

Times, Post, or Daily News?
Times.

Where do you go to be alone?
Newtown Creek.

What makes someone a New Yorker?
Stubborn masochism.