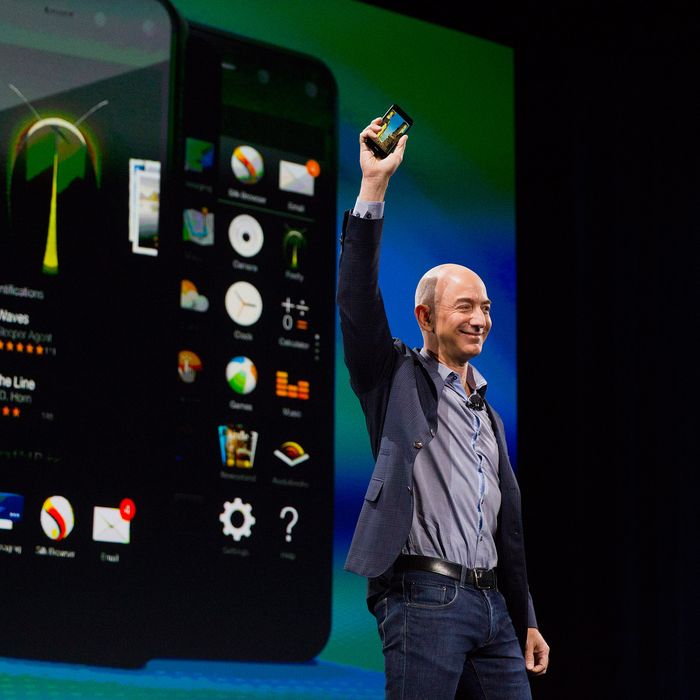 Photo: Mike Kane/Bloomberg via Getty Images
Amazon made a big step toward planetary dominance today by announcing its first-ever smartphone, the Fire. Few were surprised by the announcement. Mostly, a phone just seems like a natural extension for Amazon. After making inroads into every other sector imaginable (cloud computing, scripted TV, streaming music, robotics — just to name a few), Jeff Bezos is finally making a play for the lucrative smartphone market. Right?
Wrong. In fact, the biggest news about Amazon's new phone isn't the phone itself. It's what the phone tells us about Amazon — namely, that the company wants to turn all of its customers into super-customers as quickly as possible by getting them into Amazon Prime.
First, about the phone. It's got some nice features — 13-megapixel camera, 2.2 GHz processor, supposedly tangle-free earbuds. It comes with unlimited photo storage on Amazon's Cloud Drive service, and access to Amazon's 24/7 Mayday customer service center. It also has a feature called "Firefly," which allows the phone to scan and recognize products in the real world and add them to your Amazon shopping cart with a single button push. And it's got a 3-D feature that will give users "dynamic perspective" in some apps. The phones will start at $199 with a two-year contract and will only be available on AT&T.
The real news announced today was the way the Amazon phone will integrate with Prime, Amazon's $99-a-year premium membership, which provides members with unlimited free two-day shipping, as well as access to Amazon's trove of streaming songs, videos, a Kindle lending library, and other benefits.
Think of the Amazon Fire as a Prime subscription-selling machine that also happens to make phone calls and send text messages. For starters, each phone comes with a one-year Prime membership, or a one-year extension for those who already have it. The phones also have the Firefly feature, which is like point-and-shoot for consumerism. (Point your phone at an empty tube of toothpaste, and you're one tap away from getting another tube sent to you.)
If you don't have a Prime membership, Firefly doesn't make sense — it's designed to be used for spontaneous, single-item purchases, and needing to mentally calculate shipping costs for each tube of toothpaste would defeat the entire purpose. Amazon is clearly hoping that casual users who buy stuff on Amazon once in a while will buy the phone, get the Prime membership for free, and become hooked.
Why does Amazon care about Amazon Prime so much? The first reason is that it's free money. A 2013 study by Consumer Intelligence Research Partners estimated that Amazon Prime members spend almost twice as much on the site as non-Prime customers — $1,340 a year, compared to $708. (That doesn't count the additional shipping costs Amazon incurs from Prime members, but most of that amount is covered by the $99 annual membership.) Multiply the differential between Prime and non-Prime customers by 20 million — the low-end estimate of the number of Prime members Amazon has — and you come up with almost $13 billion in additional yearly revenue. That's roughly a fifth of Amazon's overall revenue, earned just by signing people up for memberships.

Another reason Amazon loves Prime is that it could keep rivals from peeling away their customers. Customer loyalty programs provide a "moat," in corporate strategy terms, especially when they cover so many categories at once. Once a customer has signed up for Amazon Prime and gotten in the habit of getting most of her household goods and services from Amazon, it's much harder for another retailer to convince her to make a switch. This is going to be important for Amazon as companies like Google get into the same-day delivery business.

Signing up lots of Prime members could also give Amazon the opportunity to flex its muscle with suppliers without threatening its bottom line. This is an important benefit, since Amazon has been warring with several media companies of late, and shows no signs of letting up. An expanded Prime would give Amazon even more leverage in these negotiations, since its demand would be stickier. (Think about it this way: If a non-Prime member goes to Amazon to find a book and sees that it costs $2 more than at Barnes & Noble's site because Amazon is playing hardball with the book's publisher, he might get turned off and go elsewhere. But if he's a Prime member, the book would still cost less, all told, at Amazon, since free shipping is included. The customer walks away with a better deal, even though Amazon is giving a worse deal to the book's publisher.)
Investors love the idea of Prime, too, since it could stabilize Amazon's revenue in weaker times and give it more pricing power in the marketplace. "Prime members are significantly more valuable than non-Prime shoppers," the Motley Fool's Brendan Mathews wrote. "As Amazon's business mix shifts to include more Prime members, there is potential for operating leverage and margin expansion."
Looked at through the lens of Prime, Amazon's new phone makes a lot more sense. It may not displace the iPhone, but it doesn't have to, if several million Amazon customers buy it and decide to sign up for Prime as a result. Like streaming TV, Kindle libraries, and eventual self-piloting delivery drones, a phone is just one more way Amazon hopes to hook its customers into signing up for Prime — where they spend more and are less likely to defect to a competitor. In fact, given how important Prime memberships will be to Amazon's future, I'm somewhat surprised the company isn't giving away the phones for free to Prime members.

Regardless, focusing so intensely on Prime buyers is a brilliant strategy, and a brutal one. After years spent luring customers inside its store, Amazon is now trying to lock them inside.