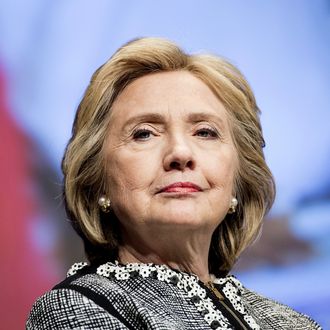 Photo: Brendan Smialowski/AFP/Getty Images
A week after the release of her new book, Hard Choices, which was the second best-selling hardcover of the past six days according to Nielsen BookScan, Hillary Clinton is almost equally loved and hated across America. So says a new NBC/Wall Street Journal poll, which found that 38 percent of registered voters want her as their 45th president and 37 percent most certainly do not. Clinton's approval rating sits a bit higher at 44 percent, according to the poll.
That represents a slight dip from the 48 percent of Americans who gave her positive marks in April and likely points to the beginning of an effect Jonathan Chait wrote about last week: Clinton's prior approval rating had more to do with her distance from partisan D.C. politics than anything she's done. Now that she's re-entering the fray with her book, those numbers are, naturally, dipping.
Last week's release of the 656-page Hard Choices looked a lot like the unofficial launch of Clinton's pre-presidential campaign. She's out on a publicity tour that has her back on TV and back in the news, which helped the book sell 85,721 copies. But she'll hope its performance isn't an indication of what might happen in November 2016. In its first week, Hard Choices finished behind Diana Gabaldon's historical sci-fi romance Written in My Own Heart's Blood.