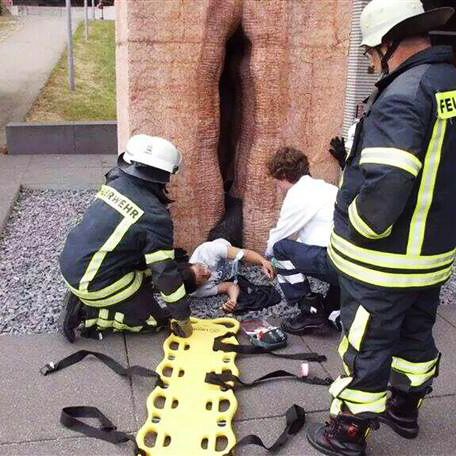 Photo: Tuebingen Fire Department
In the most graphic internationally viewed birth scene since Kourtney Kardashian's, it took 22 rescue workers to help free a 20-year-old exchange student from a marble sculpture depicting the source of life on Friday in Tuebingen, Germany. "It was a dare," said the squad leader of the local fire department. "The young man had tried to pose for an unusual photo and climbed into the artwork." He could not climb out alone.
Someone claiming to be the kid's friend posted photos of the incident to — where else? — Reddit.
The statue, Chacán-Pi (Making Love), is the work of Peruvian artist Fernando de la Jara and has sat outside of Tübingen University's institute for microbiology and virology since 2001. It's valued at $173,000.
"We were able to pull the victim out with our bare hands after about 30 minutes," said the rescue chief, who could not help but add that a "forceps delivery was not necessary." The town's mayor told a local paper that he could not imagine how the dude got caught, "even when considering the most extreme adolescent fantasies," adding, "To reward such a masterly achievement with the use of 22 firefighters almost pains my soul."
The "victim" will never hear the end of the lubrication jokes. He deserves it.