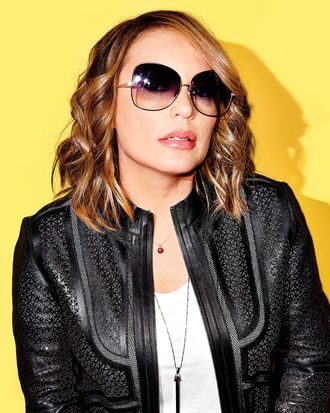 Photo: Bobby Doherty/New York Magazine
"Where's my mojito?" booms "the Voice of New York" in her deep, trademark Brooklyn half-yell. The sound of Angie Martinez, the local rap-radio legend, is familiar to listeners in every borough. "When I'm calling a store they'll be like, 'You sound like Angie Martinez,' " she says, adjusting her sizable gold hoops and fitted leather jacket, the first of many outfits and accessories she'll try on over the next few hours. "People always just say they remember being in New York and hearing my voice on the radio." Martinez is hard at work on one of her many side hustles—posing for her forthcoming cookbook, an outgrowth of
her food blog
, featuring a healthy twist on Latin cooking (co-authored with a Top Chef and featuring guest recipes from John Leguizamo, Rosie Perez, and Robinson Cano)—and though it's only four in the afternoon, she needs a drink. For the photo shoot. "This one's not very good or I'd give you a sip," she says, taking one anyway. "It's more for the visuals." She tastes the mojito again before sampling some tamales for the
camera.
Martinez is technically supposed to be taking a break. Just days before, she'd announced on-air (and, almost simultaneously, on Instagram) that she was leaving WQHT (97.1 FM), better known as Hot 97, the country's most revered hip-hop station, where she started as an intern at 18, fetching coffee and driving the street team's van. She grew up around radio—her mother was a program director at the smooth-jazz station CD 101.9—and as a Puerto Rican teenager bouncing between Washington Heights, Brooklyn, and the Bronx, she was drawn to the burgeoning genre. In the intervening years (she's now 43), hip-hop culture became popular culture, and Martinez worked her way up from running errands to running the boards and eventually to the microphone, where she grew into rap and R&B's go-to interviewer, mediating beefs, airing backstories, and building up the ­historical record.
And she just never left, logging intimate but usually playful chats with everyone from a pissed and poetic Tupac, just out of jail following a sexual-abuse conviction—"That was the moment I realized that, oh, wow, this could matter to somebody, to a culture," she says—to ascendant presidential candidate Barack Obama, who referred to Martinez deferentially by that "Voice of New York" nickname in the summer of 2007.
She participated from the other side, too, releasing two rap albums and various soundtrack singles under her own name in the early aughts, including the hit "Not Tonight (Ladies Night Remix)" with Lil' Kim, Da Brat, Lisa "Left Eye" Lopes, and Missy Elliott, plus collaborations with Mary J. Blige and a pre-"Happy" Pharrell. "I hate when I walk into a place and they're playing it," she says now of her music. "It's like when someone pulls out a bad photo of you from middle school."
Martinez's surprise marathon farewell show was a nostalgia trip not just for her but for the entire station—the DJs even threatened to play those old tracks—which has seen its influence fade as hip-hop continues to decentralize and live increasingly online. (This year, in a bid to diversify, Hot 97's various personalities participated in a sketch-comedy, meta-reality show on VH1. "Ummmm … How do I put this?" she says of the largely ignored experiment. "It was okay. We had fun shooting it some days.") Then there are the conglomerates, like Clear Channel, whose more than 850 stations dominate the 21 owned by Hot 97 parent company Emmis Communications.
One of Clear Channel's megacorporate newcomers, Power 105.1 (established 2002), just happens to be Martinez's new employer, a move some New Yorkers view as like jumping from the Mets to the Yankees (if they played in the same division). Over the years, the music at both stations has veered somewhat from the hard-core New York City boom-bap of the '90s glory days to more dance- and pop-oriented selections—Lorde's "Royals," for example, was on heavy rotation at both, despite ostensibly being a critique of hip-hop excess—but only Hot 97 continues to concern itself with "bringing New York back" via "authentic" rap. Of Power's poppier leanings and lack of daily Notorious B.I.G. throwbacks, Martinez says, "I do think they're female-friendly, whereas Hot is very male-friendly."
Still, "nobody saw it coming. I didn't see it coming," she explains as scattering assistants set the table with fish tacos for the next shot, a family meal including her 11-year-old son, Niko. "I just got to a point where I thought to myself, I'm curious about what my value is in the market, and let me just see what's out there," she says. Like professional wrestlers (or rap crews), the stations trade taunts and play up their bad blood for entertainment and ratings, but Martinez insists she's received nothing but support from her co-workers, past and future. "We're not gangs. Nobody's gonna hurt each other. That's never gonna happen," she says. "We're all competitive people." After the big announcement, Ebro Darden, Hot 97's former program director turned on-air talent, tweeted, "Angie, I love you and gave my life to protect you. This is a great opportunity to extend your brand!! Get that $$."
The artists are sticking by her, too. "Wale sent me a really long text about how much my presence has meant to him." Rihanna had flowers delivered. "Jay Z said to me, 'Your future is ahead of you.' He said, 'Imagine the notion of the past 15 years of your life being a blip in your story.' And I thought that was dope." (The pair have a particularly good rapport, with Jay using Angie as his Oprah to address disputes over the years and even popping into the studio unannounced for an occasional chat.) But in making the jump from "Where Hip-Hop Lives," as Hot 97 boasts in its slogan, Martinez had to think bigger. As part of her new deal, she will also host a midday show on 103.5 the Beat in Miami. "I wanna be on different markets. I wanna be able to grow," she says, pointing to the success of Clear Channel poster boy Ryan Seacrest, a syndicated empire-builder across cities and platforms.
Changing into a bright floral blouse and trying on different hoops and more necklaces, Martinez sings a few bars of Gloria Estefan's "Conga" and shimmies in her makeup chair. "I feel very Miami," she says, anticipating the Florida trip she'll take once the cookbook shoot is wrapped, before getting back to radio in mid-July. Down in South Beach, she'll meet with her new bosses, but she'll also spend some one-on-one time with Niko, although Jay Z and Beyoncé's joint tour opens while they're in town. "We'll see," she says. "I'm not gonna take my son to go see 'Drunk in Love' and 'Partition.' It's a bit much for him. I try my best to keep him as much of an 11-year-old as possible."
Before she can head to Miami, though, she has one last piece of Hot 97 business to handle. "I'm trying to get my name back on Instagram," she says—the angiemartinez97 era is over. "The girl who has [angiemartinez], we've been going back and forth on DM. She's damn near trying to extort me." They settle on $1,500, and an assistant is tasked with going to Western Union to transfer the funds—half at first, then the rest once the woman in Arizona hands over the password. "Don't let her get the money without giving me the name," she instructs. "Her daughter is mad cute, though," says Martinez, scrolling through the other Angie's account.
For dessert, she and Niko make a mango-and-pineapple smoothie—"You're a natural," she tells him while the photographer snaps away—but after the shoot wraps, the Instagram deal still isn't handled. It turns out they can only wire $450 at a time, and there's a waiting period. "I just wanna get this done," says Martinez, clearly exhausted. The assistant assures her the other woman is signing up for a PayPal account, and Martinez hops into a waiting SUV. The next afternoon, the 97 in her handle is gone.   
*This article appears in the June 30, 2014 issue of New York Magazine.