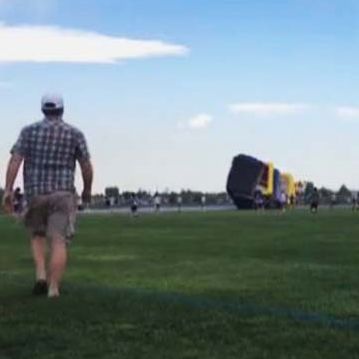 In what's becoming a worrisome trend, at least in local news segments meant to terrify parents, air-filled kid chambers keep floating away while occupied. The latest incident, following one upstate that seriously injured two boys last month, occurred in Colorado on Sunday, at the otherwise festive-sounding Rocky Mountain Lacrosse Jamboree.
"As the wind picked up, it would tumble," said a witness. "Like a bag in the wind."
A girl was ejected eight feet into the air, NBC 9 News reports, while a boy was trapped inside as the flimsy structure was thrown between 200 and 300 feet, through a lacrosse game, before stopping just short of a pond. Thankfully, his injuries were minor.

Are bounce houses really death traps or is this the new razorblades-in-apples on Halloween? The pictures, for one, prove this fear to be well-founded enough, at least if you're the type to ever come in contact with a bounce house and heavy winds. And the concerns are ongoing, according to this report from 2011:
At least 10 inflatables around the country have been toppled by winds or collapsed under too much weight in the last two months, injuring more than 40 people, according to www.rideaccidents.com, a website that tracks amusement ride accidents.
"I wish this was a rarity, but it's not. It happens all the time," said the spokesperson for the National Association of Amusement Ride Safety Officials at the time. "These are probably the most dangerous amusement devices they have." Kids can have fun with literally anything — they don't need plastic castles to jump in. Ban bounce houses.