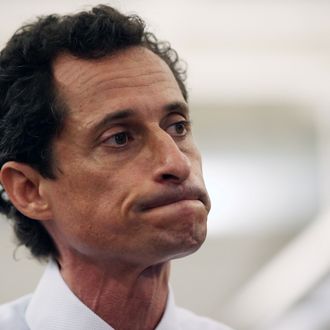 Photo: John Moore/2013 Getty Images
Anthony Weiner is still on Twitter. Anthony Weiner is still Anthony Weiner.
The disgraced politician turned failed mayoral candidate turned Business Insider columnist seems not to have realized that everyone can see the things you "favorite" on social media — Twitter, in his case, of course — but instead of owning up to his interests (hockey, sexting, scantily clad young women), he's doing the Weiner thing and claiming that it happened "accidentally" — 27 times. This from the man who was "hacked."
BuzzFeed noticed Weiner "hit the star thingy" (in the ex-politician's own Who, me? I'm so clueless! words) on a tweet declaring "Tinder will now be the ultimate sext machine."
Among his 27 other "favorites," which, for future reference, are catalogued here (but have since been deleted, save one), were compliments, Stanley Cup stuff, and, according to the Village Voice, a handful of sexy photos of a young lady in California who goes by ParisDylan550 and has kind of a Sydney Leathers thing going on. (Remember when Anthony Weiner went on an apology tour for sexting and then decided to run for mayor of New York City while he was still sexting? That was wild.)
"[T]here were a bunch of favorites there that I either didn't recognize or mean to favorite," Weiner explained in a statement. "[I']m not clear on how they got marked in the first place but I assume [I] hit the little star thing accidentally as I scrolled through stuff."
Never change, Anthony Weiner. Not that it seems like a possibility.