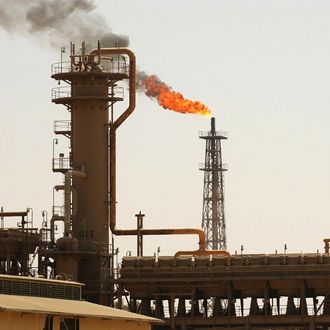 Photo: Stan Honda/AFP/Getty Images
Iraqi government officials said today that military forces have beaten back Sunni militants at the massive oil refinery in Baiji that was besieged by masked Islamic fighters late Tuesday night. Videos, witnesses, and workers still trapped inside the sprawling compound are telling a different story.
"Iraqi forces are still inside the refinery, and they control it," one worker told AFP. Another told the New York Times that control of the refinery is split between Iraq's military and ISIS 60-40. "Clashes have stopped since midnight and now the gunmen are controlling part of the refinery and the towers," the worker said. This corroborates reports a witness gave the Associated Press about black ISIS banners hanging from watch towers at the refinery. The same witness said militant forces are maintaining checkpoints around the facility.
These reports all conflict with what Iraqi military spokesmen, General Qassim Atta, and local officials in Baiji are saying. "The attack ended in the early morning," one official told the Times. But The Wall Street Journal says fighting is expected to flare up at the refinery today, which would obviously prove the officials wrong.
Located 130 miles north of Baghdad, the refinery is a strategic asset that's responsible for more than a quarter of the country's domestic oil production. Control of the refinery would allow militants to add even more chaos to the destabilized country. It's already been shut down because of the fighting, and if it continues to sit idle, electricity and gas shortages could become Iraqis' latest problem.