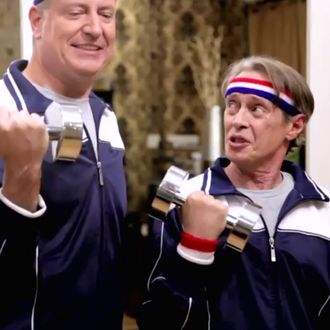 With a move to Gracie Mansion imminent and his days left at the family's beloved Park Slope YMCA waning, Mayor de Blasio invited a reporter along on a few recent trips to the gym. Bad idea, if he wants anyone to think he's tough. The resulting New York Times story from Kate Taylor is shocking in its revelations. It turns out de Blasio doesn't really know how to exercise.
To be fair, he is a 6-foot, 6-inch 53-year-old with two bad knees and a job to do. Those disclaimers are included, as are the mayor's manners (he's known for "religiously toweling off the machines after using them"), but the article is full of negs, from beginning to end.
First, de Blasio "engaged in a series of decidedly unofficial-looking calisthenics." (Despite having worked with a personal trainer "for years.")
And then he spent a loooong time warming up: "amid the perspiration and labored breathing of people furiously sprinting, climbing stairs or spinning, Mr. de Blasio plunged into his own workout by lying down on his back."
But it gets more cruel:
The most powerful elected official in New York City wouldn't wow anyone with his feats of strength. He bikes at a middling speed, does not overdo it on the weight machines and barely seems to break a sweat, judging from a couple of recent routines.
Did we mention that de Blasio bikes slowly?
Switching the channel to MSNBC to watch "Morning Joe," he started pedaling at a pace that looked not much faster than a walk.
No, seriously, like Michael Bloomberg could move faster on foot:
The woman next to him looked as though she were in the last leg of the Tour de France. The mayor looked as though he had just polished off an early-evening glass of Bordeaux and a Gauloise.
Surely he was just pacing himself … right? Nope, the Times reports:
Mr. de Blasio spent 25 minutes on the bike, then went into the room full of Cybex equipment for some lat pull-downs and ab crunches. He was done in 10 minutes.
Even the desk lady made fun of his lack of sweat. Dante must be so embarrassed.
The lesson here is to never let anyone watch you work out — just ask Obama.