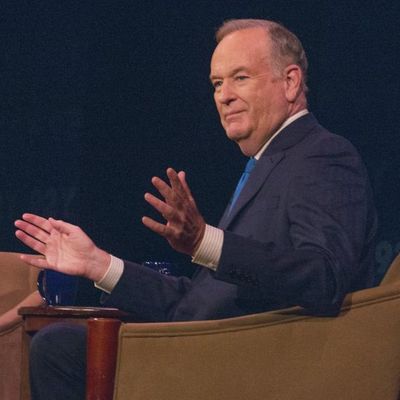 Photo: Joyce Culver/Joyce Culver
Even on New York City's Upper East Side, Bill O'Reilly can draw a packed house of true believers. When he took the stage at the 92nd Street Y on Wednesday night for a conversation with his fellow Fox News host Geraldo Rivera, O'Reilly was greeted rapturously by an almost entirely white, white-haired audience (the man in front of me used binoculars to see the stage 23 rows ahead) who whooped and chuckled at the mere mention of President Barack Obama and his potential Democratic successor in 2016. "Hillary Clinton would envy Bill O'Reilly's book sales," said Rivera, by way of introduction, to spirited applause.
His opening question was a sarcastic, "Why are you so unremittingly hostile to President Obama?" The crowd hollered again. "I'm an ombudsman for the folks," O'Reilly replied, insisting he merely speaks truth to power. "When they do bad things, I point them out."
While Obama is currently the one doing those things, would the country have been better off with Hillary Clinton, Rivera wondered. "With Hillary you get Bill. And Bill knows what's going on," said O'Reilly. "You may not like him but he knows what's going on. Hillary doesn't understand how the world works. She doesn't. But you elect Hillary, he's there. Whether his attention is diverted, I don't know … But he's there."  ("If you go after Mrs. Clinton, you're going to be a bully and a woman-hater, misogynist and all of that," he added later.)
Still, "She's a weak candidate," he said, moving on to 2016, although the Republicans don't have much better. "Jeb Bush can do it," he offered. "Unfortunately, he's not a charismatic guy. And do we want another Bush in the White House?" Chris Christie? "No, he's done. Christie's done. And it's Christie's own fault." Rand Paul has "a big problem in the foreign policy area," although "his libertarian values might resonate," while Ted Cruz "can't defeat Hillary," he said. "The shutdown of the government was a big mistake for him."
But does Fox News as a whole, Rivera asked, treat Obama with the same fairness it offered George W. Bush? "It depends on the hour," said O'Reilly, who proceeded to run down the entire network schedule, evaluating each of his colleagues on how conservative they are.
Fox & Friends: "Doocy is an Obama basher," O'Reilly admitted. "The other two, [Brian] Kilmeade and Elisabeth [Hasselbeck], they'd rather whip up a soufflé."
America's Newsroom: "Hemmer and MacCallum have no social agenda at all," he said.
Happening Now: "Jon Scott and Jenna Lee, no ideology."
Outnumbered: "Outnumbered or Outsmarted, I don't know what it is. Those people … I don't know."
Shepard Smith Report: "Shep Smith is a liberal."
Your World With Neil Cavuto: "Cavuto, that's a business show. Not an Obama fan."
The Five: "Bob Beckel, that's an anti-Obama situation."
Special Report With Bret Baier: "At 6, we start to get into the signature shows. Bretty Baier, he's not anti-Obama. His agenda isn't to diminish the president."
On the Record With Greta Van Susteren: "Greta, who's liberal."

The O'Reilly Factor: "I'm tough on everybody."
The Kelly File: "Megyn, not an ideologue. She didn't come in with, 'I hate him.'"
Hannity: "Then you have the Republican show with Hannity at 10. He's a Reagan Republican." Not O'Reilly, though, no way. "I'm an independent," he insisted. "Right-wing radio, they hate me. I'm happy where I am. I don't have any agenda to push."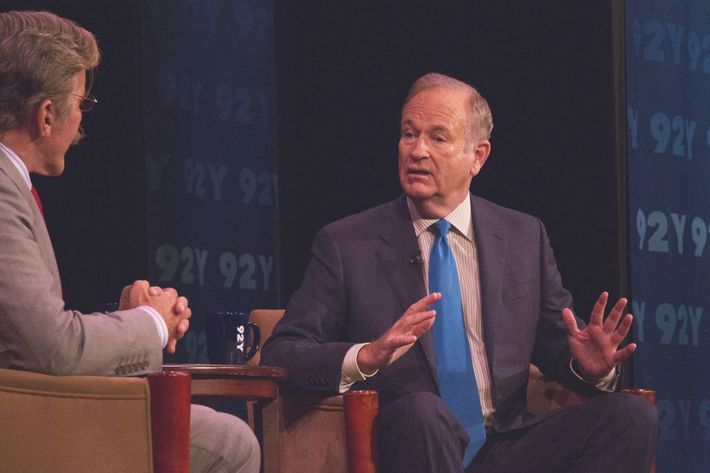 Other highlights
On CNN: "They don't have any flamboyant obnoxious people like you and me. Wolf Blitzer, he looks like a U-boat commander, doesn't he?"
On gay marriage: "I'm okay with it going by state by state as long as the will of the people is being upheld, not pinhead judges."
On ISIS in Iraq: "Bomb them. I don't give a whit what the Iraq government thinks, Maliki and these corrupt midgets. These people will cut your head off in a heartbeat … The reason we can't bomb them is because the president is on the golf course."
On the capture of Benghazi suspect Ahmed Abu Khattala after nearly two years: "The New York Times could have apprehended him! Slapped some handcuffs on him and Jill Abramson — what's her name? — she would've slapped him around."
On Eric Cantor's $200,000 spent at steakhouses: "Eric Cantor is a fat cat."
On social media: "Horrible. Killing kids."
On Putin: "I would never talk to Putin unless he put a shirt on."
On whether Mayor de Blasio will bring back the "bad old days": "It's already happening," he said to more applause. "I would've never called it stop-and-frisk. I would've called it meet-and-greet."
On being the only adult Geraldo knows who hasn't tried marijuana: "I'm uninhibited enough. I don't need to be stoned. I know who I am."