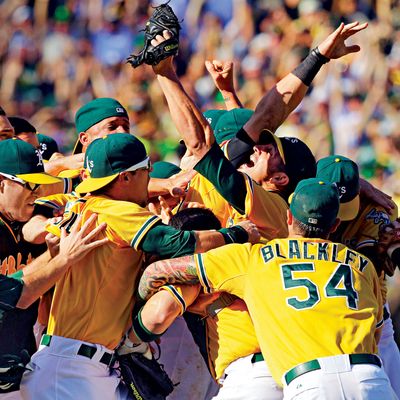 The funniest thing about the legacy of Moneyball, the 2003 Michael Lewis book and the 2011 Brad Pitt movie, is that it quickly became an ongoing leadership seminar about losers.
Back in 2003, before disrupt became a buzzword in every Silicon Valley start-up, Billy Beane and the Oakland A's truly disrupted the baseball world. It was never just about discovering on-base percentage, which scouts hadn't noticed before, or learning to love players who didn't look good in jeans. It was about a small business maximizing every resource available in order to compete with more established, wealthier brands. The book and movie were such a hit because, as confusing as some of their plot points might be—why exactly is Jeremy Giambi being traded? Oh, and who is Jeremy Giambi again?—the fundamental narrative was universally relatable: Little guy takes on big guy and wins. How do you routinely trump competitors that have twice the budget you do? Billy Beane can show you how, trumpeted a website that booked Beane's speaking engagements.
Except: The A's didn't actually end up trumping anybody. Moneyball the movie and the book are the rare inspirational sports stories that end with a big game … that the little guys lose. And, all told, after Moneyball came out, the A's went through an eight-year stretch where they made the playoffs only once. This led to some mockery inside the baseball industry, particularly among those scouts so maligned by the book (a book Beane has had to repeatedly point out that he did not, in fact, write). "So much for the genius," sneered one scout to ESPN in June of the A's 2009 season, in which the team won only 75 games and finished last in the American League West. "He doesn't look so smart anymore, does he?"
The strange thing was that Beane's comeuppance was in fact a result of his success: As with any insurgent, once his tactics became known, they were co-opted by the powerful. Nowadays, every front office in baseball has a stat-head crunching some sort of numbers, many of them in the GM's office. On-base percentage has gone from an underpriced asset to an overhyped one; even the guys in the broadcast booth are familiar with it now. The Yankees and the Red Sox (at least briefly) became the A's with money—Beane's worst nightmare. Which has all landed the A's right back where they started: as a decrepit franchise with a cheap owner, low revenues, and the worst stadium situation in the game (with the threat of relocation ever hanging above them).
And that is why it's so deeply satisfying to see, of all teams, those Oakland A's dominating the baseball world again this year. Beane's A's are comfortably atop the American League West—the division they've won the past two seasons—and have the best record in Major League Baseball. They're still in the same stadium, with the same uncertainty, with the same owner. They have the sixth-lowest opening-day payroll in the game. Everyone knows their old tricks. And yet here they are: on top of the baseball world again.
How have the A's done it? Well: new tricks. Let's look at the three takeaways that might fit best on a rotating paperback display in an airport Hudson News.
First, don't spend a lot on a little; spend a little on a lot.
The emotional through-line of Moneyball is Beane learning from his experience as a failed prospect and applying it to today's game. The idea: Scouts were wrong about him, and therefore they'll be wrong about tons of guys. Only trust the numbers.
That was an oversimplification, but distrusting the ability of human beings to predict the future has been the centerpiece of the A's current run. This time, though, the A's aren't just doubting the scouts; they're also skeptical that statistical analysis can reliably predict the future (or that their analysis could reliably predict it better than their competitors). Instead, Beane and his front office have bought in bulk: They've brought in as many guys as possible and seen who performed. They weren't looking for something that no one else saw: They amassed bodies, pitted them against one another, were open to anything, and just looked to see who emerged. Roger Ebert once wrote that the muse visits during the act of creation, rather than before. The A's have made it a philosophy to just try out as many people as possible—cheap, interchangeable ones—and pluck out the best.
Thus, when Sean Doolittle faltered as a hitting prospect thanks to injuries, they tried him on a mound; he's now one of the best relievers in the game. Brandon Moss bounced around the league for years before serving as a terrific platoon hitter at first base. Josh Donaldson was a prospect past his expiration date; the A's, mostly as a matter of throwing stuff against the wall to see what sticks, were the ones who benefited when he exploded into an MVP candidate.
The second big takeaway is to focus on what your employees can do, not what they can't.
The A's do one thing more than any other team: They platoon. Most teams would look at players like A's catchers John Jaso and Derek Norris and lament how badly they struggle against pitchers who throw from the same side of the plate as they hit. This is seen as a liability. But Beane and the A's see it as a potential strength. Thanks to platoons, you can send a left-handed batter to the plate to face a right-handed pitcher and get a favorable matchup anytime. Which is what the A's do. Oakland has 12 players with more than 100 at-bats this season, tied for the most in the majors, and last season, according to Baseball Prospectus, Oakland had the second-highest percentage of "favorable-handedness matchups." And in baseball, every little bit matters.
It is difficult to find players who can do a ton of things well, and if you find them, they're quite expensive. But it's not as tough to find guys who do one or two things extremely well. And this has another advantage: Platooning keeps the players' "counting" stats down, which means it keeps them inexpensive. Jaso is a valuable hitter, but he's not even in the top ten among catchers in homers, RBIs, or hits. That's because he's 17th in at-bats. Arbitrators—who determine player salaries for the first part of players' careers—look at these stats, and value them, more than they should, which means part-time players will cost relatively less than they should. It's another market inefficiency Beane exploits.
Third, if you can't change the game, let it change on its own.
In late June, there are probably only three teams (the Cubs, the Astros, and the Diamondbacks) who have given up on the season. Thanks to revenue sharing and the sheer amount of money in the game, teams that used to wave good-bye to their best players when their contracts were up now get to keep them: Andrew McCutchen is still a Pirate, Evan Longoria is still a Ray. The game was truly stacked against the A's in 2003. It is less so now.
After all, that annual payroll that the A's have, the one that's among the six lowest in baseball? It's still more than $80 million, the highest in the history of the franchise. That allowed the A's to sign Cuban defector Yoenis ­Céspedes for only $36 million over four years in 2012 and bring in closer Jim Johnson for $10 million. That would have been too pricey for the A's in the past. Not now.
The question for Beane & Co., as always: Will any of this matter come playoff time? "My shit doesn't work in the playoffs," Beane famously said in Moneyball. But the A's have come back from the brink and taken over baseball, again, in an entirely different way. This time, everyone was watching—and still no one could figure out how they were doing it. Moneyball is not being sold nearly as hard this time. But it's working better than it ever has.
*This article appears in the June 30, 2014 issue of New York Magazine.