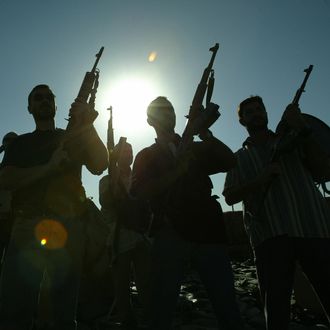 Photo: PATRICK BAZ/2007 AFP
Those who read just two sentences past the boring, quintessentially New York Times headline "Before Shooting in Iraq, a Warning on Blackwater," will find an explosive report by James Risen on the security contractor that had billions of dollars in U.S. government contracts during the wars in Afghanistan and Iraq. In August 2007, two State Department investigators were sent to Iraq to review Blackwater's operations. They found evidence of all sorts of misconduct — ranging from joyriding in a $180,000 armored vehicle to making low-paid foreign workers live in "squalid" conditions — but Blackwater's head manager in Iraq managed to top all of that. The State Department's lead investigator claims that Blackwater's project manager threatened "that he could kill me at that very moment and no one could or would do anything about it as we were in Iraq." The investigation was then shut down, and a few weeks later, Blackwater guards killed 17 Iraqi civilians in Nisour Square.
According to internal State Department documents uncovered during a lawsuit against Blackwater, shortly after arriving in Baghdad for a monthlong review, investigators Jean C. Richter and Donald Thomas Jr. uncovered many examples of Blackwater's contract violations, including:
Changing the staffing of security details for American diplomats without State Department

 

approval
Blackwater guards storing automatic weapons and ammunition in their rooms, where they would party and drink heavily with many female

 

guests
Blackwater guards carrying weapons that they weren't certified to

 

use
Four drunk Blackwater guards driving an $180,000 vehicle to a party, and crashing

 

it
Overbilling the State Department and falsifying

 

records
A Blackwater-affiliated firm forcing low-paid foreign workers to live in filthy conditions, with three people packed into a tiny room with no

 

bed
Richter and Thomas felt the problem was caused by personnel at the American Embassy in Baghdad getting too close to the contractor, and what happened next seems to confirm their suspicions. Richter was informed that someone had accused him of "inappropriate behavior," and he was instructed to start bringing Thomas to all of his meetings. The men said in their reports that when they met with Daniel Carroll, Blackwater's project manager in Iraq and a former member of Navy SEAL Team 6, he snapped that they had no right to question him about complaints about sanitary conditions in his cafeteria, then made the death threat.
"Mr. Carroll's statement was made in a low, even tone of voice, his head was slightly lowered; his eyes were fixed on mine," Richter wrote later in a memo. "I took Mr. Carroll's threat seriously. We were in a combat zone where things can happen quite unexpectedly, especially when issues involve potentially negative impacts on a lucrative security contract." Thomas confirmed his story, and said others had told them to be "very careful."
Incredibly, it gets worse. Embassy officials sided with Blackwater and ordered the investigators to leave immediately, as they had become "unsustainably disruptive to day-to-day operations and created an unnecessarily hostile environment for a number of contract personnel." Once they returned to Washington, Richter wrote a report describing how Blackwater guards considered themselves "above the law," and had created "an environment full of liability and negligence."
Richter filed the memo on August 31, 2007. On October 5, 2007, three weeks after Blackwater guards killed 17 people and wounded about 20 in what several investigations concluded was an unprovoked attack, State Department officials finally responded to Richter's warning. They took statements from the two investigators about Carroll's alleged threat, but apparently did nothing else. In 2009, a judge threw out the indictment of five former Blackwater guards over the Baghdad shooting, and a federal court is currently trying four other guards on charges related to the incident.