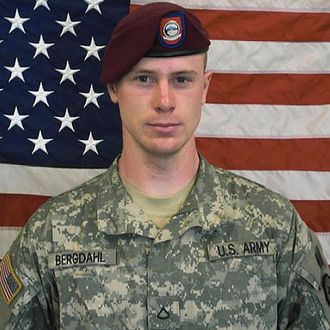 Army sergeant and rescued Taliban prisoner Bowe Bergdahl has been caught up in a web of conspiracy theories and political noise since his handover in Afghanistan early last month, but those who know him are rejecting suggestions that he was a "a calculating deserter." The Washington Post today published excerpts from Bergdahl's journal, which he mailed along with a laptop and his copy of Atlas Shrugged, to his close friend Kim Harrison just before leaving his post and getting captured in the summer of 2009.
"Trying to keep my self togeather," he wrote, mixing philosophical musings and misspellings. "I'm so tired of the blackness, but what will happen to me without it. Bloody hell why do I keep thinking of this over and over."
Bergdahl, his friends said, "sometimes painted his fingernails black and identified with Japanese samurai warriors and medieval knights." He called himself "the lone wolf of deadly nothingness." He'd also been discharged from the Coast Guard in 2006 for psychological problems (he told friends he'd "faked it") but was taken by the Army anyway in the dark, two-war days of 2008.
"I"m worried," he journaled before being sent off to Afghanistan. "The closer I get to ship day, the calmer the voices are. I'm reverting. I'm getting colder. My feelings are being flushed with the frozen logic and the training, all the unfeeling cold judgment of the darkness."
Bergdahl also developed Ayn Rand–ian ideas about finding "complete freedom":
On June 27, he sent an e-mail to his friends titled "Who is John Galt?," a reference to the hero of Ayn Rand's novel "Atlas Shrugged," about individualism in a dystopian America.

"I will serve no bandit, nor lair, for i know John Galt, and understand . . ." Bergdahl wrote. "This life is too short to serve those who compromise value, and its ethics. i am done compromising."

Three days later, Bergdahl walked off his post.
On the last page of his journal, the Post reports, Bergdahl imagined "a story about one going-crazy-to wander the earth alone."