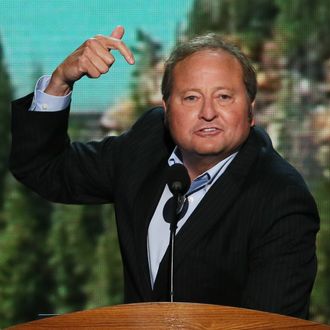 Brian Schweitzer at the 2012 DNC.
Photo: Alex Wong/Getty Images
Former Montana Governor Brian Schweitzer, a big-mouthed, armed "cowboy-politician who has wildly heterodox policy positions," believes he should be president. "I think I could change the world, and I think I could change it in a way that other people out there aren't willing to do," the self-described "different kind of Democrat" tells National Journal's Marin Cogan in a new, raucous (as far these things go) profile that features a chainsaw, hunting rifles, and jokes about sex with goats. "There are some tough things that need to be done." Like calling out which Republicans have "effeminate mannerisms."
In what is perhaps the parenthetical aside of the year so far, Cogan writes:
(It wasn't the only time Schweitzer was unable to hold his tongue. Last week, I called him on the night Majority Leader Eric Cantor was defeated in his GOP primary. "Don't hold this against me, but I'm going to blurt it out. How do I say this … men in the South, they are a little effeminate," he offered when I mentioned the stunning news. When I asked him what he meant, he added, "They just have effeminate mannerisms. If you were just a regular person, you turned on the TV, and you saw Eric Cantor talking, I would say—and I'm fine with gay people, that's all right—but my gaydar is 60-70 percent. But he's not, I think, so I don't know. Again, I couldn't care less. I'm accepting.")
"Not that there's anything wrong with that!" could work as the perfect 2016 campaign slogan for a pro-gun MSNBC contributor who favors bolo ties and wants to face Hillary Clinton for the Democratic nomination. Yeehaw!