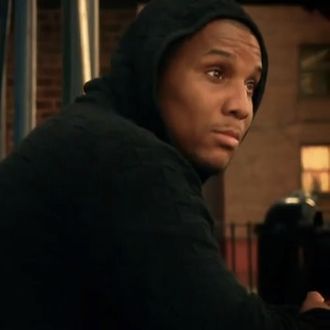 On Thursday, a federal jury found Brooklyn rapper Ronald Herron — a.k.a. Ra Diggs — guilty of all 21 charges against him, including three murders, racketeering, and drug trafficking. According to the New York Times Herron, 32, has spent only two full years outside of prison since he was first locked up for a robbery he committed at 13. Despite that, he managed to begin a promising musical career, putting in long hours at the studio, promoting himself at clubs, and collaborating with better-known artists like Uncle Murda (also a Brooklyn native) and Waka Flocka Flame.
According to prosecutors, Herron was the hardened leader of the Murderous Mad Dogs, a Bloods faction, who "poisoned" Boerum Hill's Gowanus and Wyckoff Houses with his sales of crack and heroin. They also said that he was responsible for the killings of three men associated with the drug trade, Frederick Brooks, Richard Russo, and Victor Zapata. Herron was tried for Brooks's 2001 murder, though he was acquitted after two key witnesses refused to testify, apparently because they felt threatened and intimidated. Soon after, he was convicted of drug charges and ended up in jail until 2007.  
The defense maintained that Herron was a small-time dealer who emerged from prison more focused on making art about the violence and crime in his neighborhood than he was in participating in it. "He thought he could be, in a sense, the voice for people in projects where he grew up," explained attorney James E. Neuman. Or, as Herron claimed during testimony, "I got tired of being a recidivist." 
But Herron's team also tried (and failed) to keep his work out of the courtroom, arguing that threats such as, "See if he was smart he would've shot me in the head / 'Cause I can get you shot from a hospital bed," and brags like, "Twice I went head-to-head with [former Brooklyn DA] Charles Hynes's office and never lost/I'm a boss" — including verses about shooting his enemies — were merely part of a persona, not reality. 
At one point, Herron's attorneys called Leonard Grant (a.k.a. Uncle Murda) to testify about his efforts to help Herron get his musical career off the ground by recording with him, bankrolling image-improving things like bottle service, and speaking to Washington Wizard Al Harrington about putting some money behind Ra Diggs. Perhaps more important to Herron's defense, Grant told the court that rappers often exaggerated their exploits in their songs: During cross-examination, he admitted that he had, in fact, visited a doctor after getting shot in the head, though he had once rapped about turning down medical attention.   
But, having seen the rest of the evidence, the jury ultimately chose not to separate the art from the artist, handing down a conviction after a day of deliberations that included another viewing of this video: 
Herron is now facing life in prison. His sentencing is scheduled for early October.