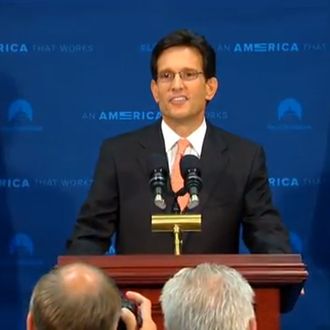 Historic loser Eric Cantor tried to keep it positive at a press conference Wednesday evening following his out-of-nowhere defeat at the hands of an Ayn Rand–loving college professor last night. "Each setback is an opportunity," said Cantor, leaving out the to become a lobbyist part and alluding to his Jewish faith while citing lessons he learned from the (violent/brutal/unfair) Old Testament. "I couldn't be more optimistic about the future of this country," he added.
Asked flat-out why he lost to a guy no one had ever heard of, Cantor replied, "I'm gonna leave the political analysis to y'all," a refrain he'd repeat multiple times with a forced smile. "I really do believe we did everything we could."
"Some people think Washington gets nothing done," the House Majority Leader said in his prepared remarks, referring to a stack of languishing bills that will never become laws. "House Republicans do get things done. We get a lot done. But there is more work to do." Not for him, though — Cantor said he will step down from his leadership position on July 31.
"I will continue to fight for each and every American who's looking to better themselves and help their families by pursuing the American dream," he added. Probably while raking in millions as a lobbyist. Thank you, and may God bless America.