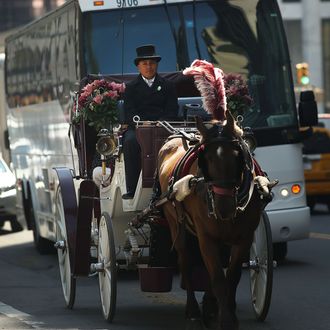 Photo: Spencer Platt/Getty Images
A carriage horse named Pumpkin broke loose and ran around Central Park on Monday afternoon, providing more fodder for the debate over whether the carriages should be banned. While waiting in the carriage line on Sixth Avenue at 59th Street, the 6-year-old horse got his bridle stuck in the carriage in front of him. Once it was off, Pumpkin took off into Central Park. "At that point, it's pretty predictable what's going to happen. He's going to run the route he usually takes," carriage operator Christina Hansen told NBC New York. As Pumpkin galloped through the park, bicyclist Joseph Siniscalchi, who owns two horses on his farm upstate, hopped into the driver's seat in an attempt to slow the horse down. "I was just thinking that someone could really get hurt, or the horse could," he said.
Siniscalchi told the Daily News that he was finally able to stop Pumpkin by jamming the carriage wheel against an open taxi door on 59th Street. "Someone was going to get out, and I yelled, 'Don't get out of the cab!' and he pulled his head back in," he said. The passenger turned out to be Mets outfielder Matt den Dekker, who tweeted, "Almost got ran over by a horse carriage running wild through the city."
After the carriage hit the taxi, drivers were able to re-bridle Pumpkin and take him back to the stable. A tourist said he seemed "frightened and shaky," but fortunately no horses or humans were injured.
Carriage industry spokesman Stephen Malone tried to put a positive spin on the incident. "What you saw is the industry's professionalism," he said. "We knew where the horse would go, corralled it, and brought it back to the stable." However, the group New Yorkers for Clean, Livable and Safe Streets, which is pushing for a ban on carriage horses, said in a statement that this proves horses and traffic "simply don't mix." "This is just the latest instance that shows how unsafe horse carriages can be," said NYCLASS. "It's time to retire the carriage horses and replace them with something that doesn't spook or dart dangerously through traffic and pedestrians."