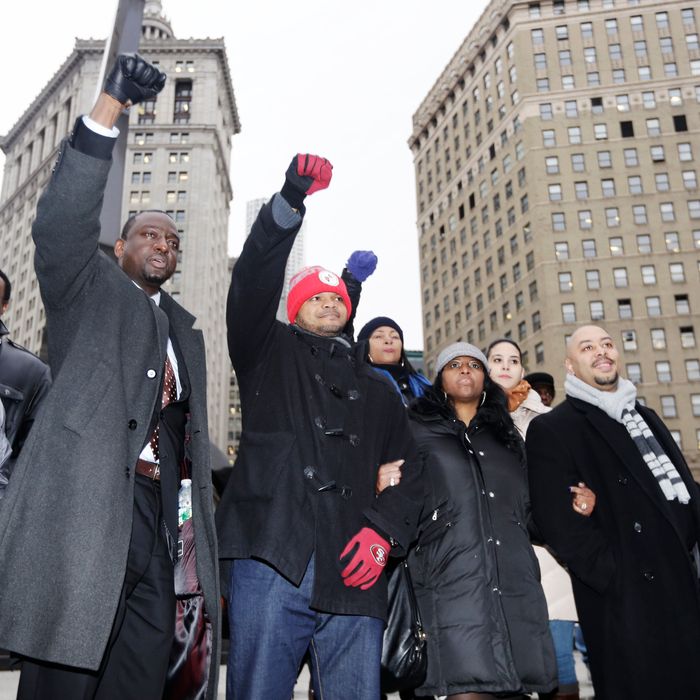 Raymond Santana, right, Kevin Richardson, and Yusef Salaam, left, react to supporters at a January 2013 rally in New York.
Photo: Frank Franklin II
The five men who were wrongfully convicted of beating and raping a Central Park jogger in 1989 have agreed to settle their civil rights lawsuit against the city for $40 million, according to the New York Times. The confidential agreement was disclosed by "a person who is not party in the lawsuit," and still needs the approval of a federal judge and the city comptroller. The five black and Hispanic men — Antron McCray, Raymond Santana Jr., Kevin Richardson, Yusef Salaam, and Kharey Wise — were 14 and 16 when they were charged with the crime, which led to sensational reports that a "wolfpack" of "wilding" youths attacked the 28-year-old investment banker. They were convicted in 1990 after making incriminating statements, which they said were coerced. In 2002, their convictions were vacated after DNA evidence proved that the woman was attacked by convicted rapist and murderer Matias Reyes, who confessed to the crime. 
In their lawsuit, the Central Park Five accused city authorities of false arrest and malicious prosecution, and sought $250 million in damages. The Bloomberg administration fought the lawsuit for a decade, arguing that prosecutors and detectives had probable cause, and judges in two trials concluded that their statements weren't coerced.
Shortly before being sworn in, Mayor Bill de Blasio said his administration would work to settle the case "quickly" because "a huge injustice was done." In March, The Wall Street Journal estimated that settling the case may cost the city millions, after analyzing settlements in other wrongful conviction suits in New York since 2003. The Journal reported: "The average payout was approximately $305,000 for each year in prison. By that measure, the five men could receive between $2 million and just under $4 million each."
Now it appears that estimate was low. According to the Times, the five men will receive about $1 million for each year they were imprisoned. Four of the men served about seven years in prison, and Kharey Wise was incarcerated for 13 years. If the paper's calculations are correct, Wise's portion of the settlement will be more than the city has ever paid in a wrongful conviction case.