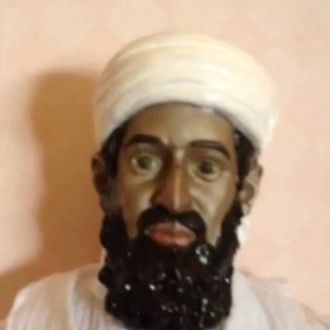 In an effort to win the hearts and minds of Pakistani and Afghan children, the CIA toyed with a plan in 2005 to manufacture and distribute evil Osama Bin Laden action figures, according to the Washington Post. Beyond his everyday wickedness, the action figures made Bin Laden seem even more despicable by using a heat-dissolving material on his face that melted away to reveal a red-skinned, snake-eyed bogeyman. "The goal of the short-lived project was simple: spook children and their parents, causing them to turn away from the actual bin Laden," the Post reports.
Code name "Devil Eyes," the Bin Laden toy project was brought to life by longtime Hasbro executive Donald Levine, known as the father of the G.I. Joe. After completing his design, Levine, who was recruited because of his deep contacts within the Chinese toy world, had prototypes of the figure secretly manufactured. That's when, the CIA says, it ended the project.
"To our knowledge, there were only three individual action figures ever created, and these were merely to show what a final product might look like," CIA spokesman Ryan Trapani told the Post. Another source told the paper hundreds of the figures were made and delivered to Karachi. Either way, the action figures never made their way into the hands of children in Pakistan and Afghanistan, who probably would have preferred a toy that didn't give them nightmares anyway.