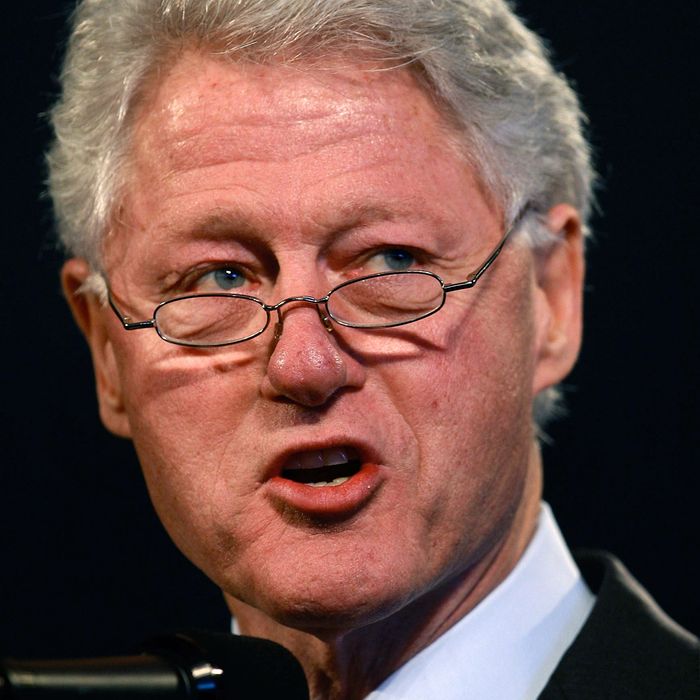 Photo: Scott Olson/Getty Images
For now, the 2022 World Cup is slated to take place in Qatar, which is a less than ideal place for a bunch of closely-watched international soccer matches. Temperatures in Qatar can reach 120 degrees in the summer, which is when the World Cup usually happens, so it might have to be rescheduled for the winter. Plus, the tiny emirate, which does not have much of a history with soccer, will need to construct ten stadiums for the two-week event, and those stadiums will likely be built by migrant workers who are essentially indentured servants. So, we can sort of understand why Bill Clinton, who was heavily involved in the United States' competing effort to host the 2022 tournament, went nuts when he learned that he had lost to Qatar.
According to The Telegraph, upon hearing the news in 2010, an irritated-looking Clinton "strode" through the lobby of Zurich's Savoy Baur en Ville hotel. After entering his suite, he reportedly "reached for an ornament on a table and threw it at a wall mirror in a fit of rage, shattering the glass." "Clinton was fuming," a "well-placed source" told the paper, which pointed out that the former president had gone to the trouble of involving Brad Pitt, Arnold Schwarzenegger, Morgan Freeman, and Spike Lee in his campaign for an American World Cup. "He felt humiliated and felt the decision did not make sense," the source added. 
The Telegraph reports that, in the wake of the announcement, the soccer governing bodies of Australia (which had also been in the running) and the United States (or "sources close to them") hired private investigators to look into why FIFA had awarded the 2022 World Cup to sweltering, stadium-less, human-rights-abusing Qatar. Over the weekend, the U.K.'s Sunday Times published a trove of documents suggesting that Qatar won its bid by bribing FIFA officials. "Whether there is any connection between these investigations and the leak of documents to The Sunday Times is unclear," noted The Telegraph. But, as FIFA rushes to investigate the corruption allegations, people are calling for the tournament to be moved to another country. Regardless of whether FIFA opts for a change of venue, the organization, Qatar, and the rest of the planet may have just learned a valuable lesson: No one embarrasses Bill Clinton in front of movie stars and gets away with it.