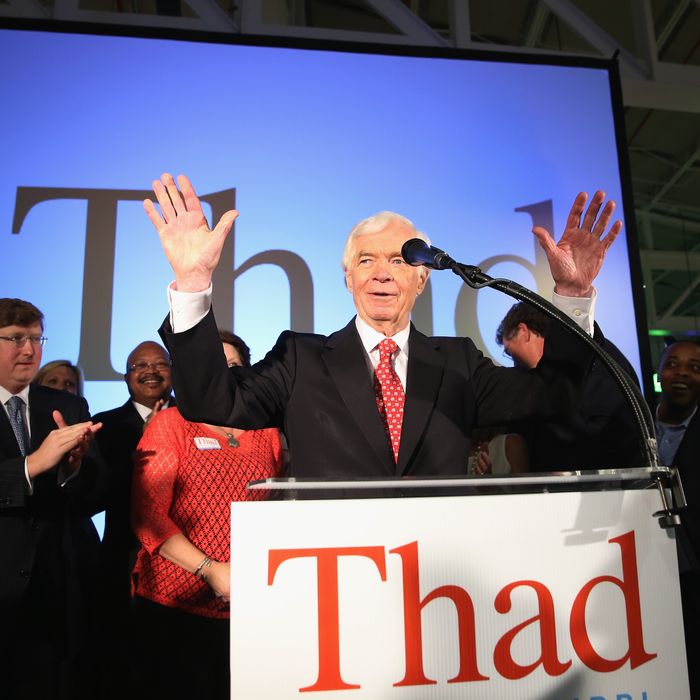 Photo: Justin Sullivan/Getty Images
Those hoping for another tea party upset after Eric Cantor's stunning loss earlier this month were disappointed on Tuesday night. In primaries across the country, establishment Republicans beat back challengers who accused them of being insufficiently conservative: In Colorado, the controversial Tom Tancredo lost the gubernatorial primary, and in New York, Representative Richard Hanna proved that the firm behind Cantor's polling can still get it right sometimes. However, there was still plenty of primary-night drama. It appears that two incumbents, Mississippi Senator Thad Cochran and New York Representative Charlie Rangel, have managed to hang on to their seats for one last term, but in both races their opponents refuse to accept it.
Cochran, who would have been the first senator unseated in this cycle, lost to State Senator Chris McDaniel by less than 1 percent in the June 3 primary, but since neither won a majority they had to hold a runoff election. Late on Tuesday night, the race was called for Cochran. With 99 percent of precincts reporting, Cochran had 50.9 percent to McDaniel's 49.1 percent, with the two men separated by about 6,600 votes.
In the past three weeks, Cochran resorted to unusual tactics, such as encouraging black Mississippi Democrats to vote in the state's open primary. He also increased turnout among his base, and bested his young, talented opponent by arguing that his seniority in the Senate is an asset to the state. As the Washington Post's Chris Cillizza put it, "Doing one of those things in three weeks time would be astounding. Doing all three is like watching someone pitch a political perfect game; you'll not see a victory like this one any time soon."
Rather than conceding, McDaniel delivered a fiery speech in which he questioned the election results, saying, "Before this race ends we have to be absolutely certain that the Republican primary was won by Republican voters." That definitely wasn't the case, but that's totally legal in Mississippi. The state does not register by party affiliation, and anyone who didn't vote in the Democratic primary on June 3 was allowed to vote in the Republican runoff.
"This is not the party of Reagan, but we're not done fighting, and when we're done it will be," McDaniel added, though it's unclear what his next move will be. Politico reports that the Senate Conservatives Fund's Ken Cuccinelli hung up on one of its reporters when asked if they would challenge the result in court.
In New York, State Senator Adriano Espaillat has more reason to keep fighting, though his chances don't look good. With 100 percent of precincts reporting, Representative Charlie Rangel is in the lead with 47.4 percent to Espaillat's 43.6 percent. When the pair faced off in 2012, Espaillat refused to concede for three weeks and ultimately lost by about 1,100 votes. Rangel is currently ahead by 1,800 votes, but early on Wednesday, the Associated Press said the race was still too close to call. According to the New York Times, the New York City Board of Elections said it's given out 2,834 absentee ballots, of which 903 have been returned and 738 were deemed valid. Ballots can still be returned to the board through next Tuesday.
Though it isn't entirely clear that he's prevailed, Rangel declared victory anyway. During a rambling 45-minute speech, the 84-year-old congressman told supporters, "We don't need a whole lot of numbers to be able to tell you how good we feel, how proud we feel, that we were able to bring together people and cultures from all over the district."
As Rangel was speaking, Espaillat addressed supporters at his own campaign headquarters. "We have reviewed the results as they have continued to come in and we feel this race is too close to call," Espaillat said. "We think it is prudent to wait for the final results before we make any announcement." He added that they should all be "proud" of the "historic race," then headed out for the night.