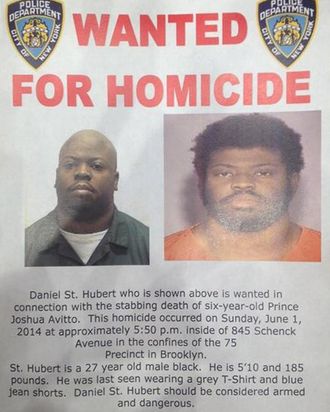 A 6-year-old boy and an 18-year-old woman are dead, a 7-year-old girl and a 53-year-old man in critical condition, all brutally stabbed. Suspected in each crime — and already formally charged with second-degree murder and second-degree attempted murder in the elevator attack on the two children, plus assault and two counts of criminal possession of a weapon — is Daniel St. Hubert, whose Friday-to-Wednesday killing spree took him from East New York to Chelsea and finally to Jamaica, Queens, where he was arrested scrawling graffiti — good for two more relatively minor charges — on a stop sign near his mother's house. "$ KILLZZ," "I WILL," "BK," he wrote, with a winking smiley face underneath.
St. Hubert, who was apprehended with an eight-inch steak knife, has not confessed, according to reports. "During his waking hours, his conversation has rambled, with references to Satan, but has also been coherent at times," says the Times.
"The devil put my prints" in that elevator, he told police, according to the Post. "I did bad things," he allegedly told a homeless-shelter worker on Sunday night, after killing 6-year-old Prince Joshua "P.J." Avitto. "The devil made me do it."
But his sister blames the system for releasing him from prison in May with no medication. "I begged them and they didn't do it," she told the Daily News. "I spoke to the social worker in regards to his mental capacity and when will he be able to see a doctor. They told me it doesn't happen right away. It usually takes a couple of weeks. Usually they're discharged with medication."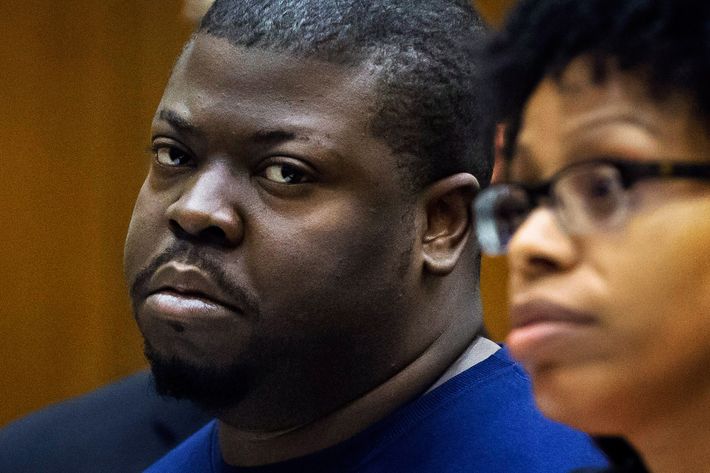 St. Hubert, reportedly a paranoid schizophrenic, spent five years in jail for trying to strangle his mother with an electrical cord and assaulting a female corrections officer. Three times he was found unfit to stand trial and committed to a psychiatric hospital. A week after his release, police suspect St. Hubert stabbed 18-year-old Tanaya Grant-Copeland in East New York. Two days later, he went after two kids. And his MetroCard places him at the scene of a similar attack on a homeless man in a Chelsea subway station Wednesday morning.
Before the DNA results came back matching him to the elevator stabbings, St. Hubert, sporting a haircut, was stopped for urinating in public and let go with a summons. A few hours later, he may have attempted murder in the subway. "We believe he committed the stabbing," an NYPD spokesperson said. "He's certainly a prime suspect in that."
Now in custody, and known in the tabloids as the "Brooklyn ripper," although he may have struck in Manhattan as well, St. Hubert has spent much of the time asleep, the Times reports.
"The prison system has been used as a de facto mental health system for too many individuals," said Mayor de Blasio. "We should not be surprised that there are so many tragic situations," he added. "This is something we have to fix as a society."