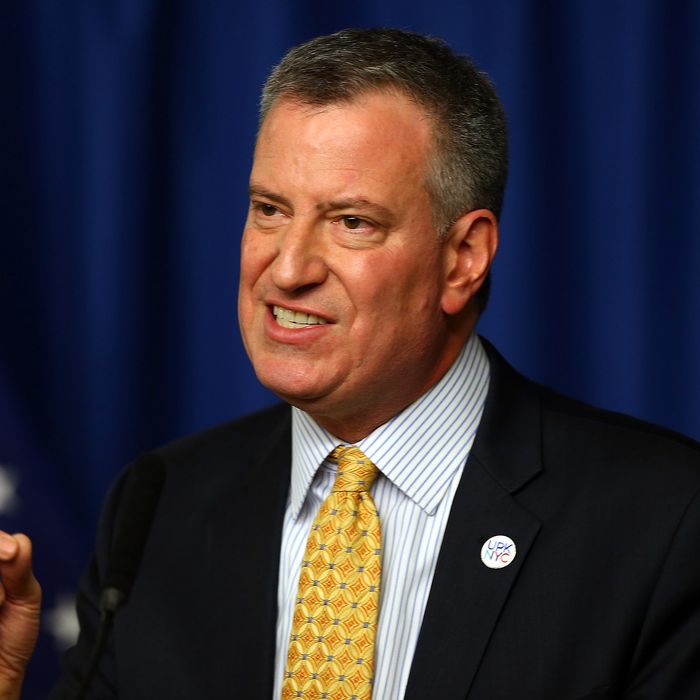 Today's two big city politics stories don't appear to be connected. And in most ways, they are not: The tentative deal to settle a lawsuit by the five men who were exonerated in the 1989 attack on the Central Park jogger had no practical relation to the deal to create a budget for the 2015 fiscal year. Where they intersect, though, is in what they say about Mayor Bill de Blasio's beliefs.
The jogger case had unraveled in 2002, when DNA tests and a confession established that convicted rapist Matias Reyes was to blame for the brutal assault that became a defining, polarizing crime story. The five who had been convicted as teens were released, and sued the city, seeking a total of $250 million in damages.
Bloomberg administration lawyers fought the case for more than a decade, arguing that there had been no deliberate misconduct by cops and prosecutors. De Blasio, though, has been emphatic — both as a candidate ("We have a moral obligation to right this injustice") and after he was elected ("We will settle the Central Park Five case because a huge injustice was done") — that he would move swiftly to settle.
To be clear: In fundamental ways, there's no amount of money that can compensate for years wrongfully spent behind bars. So while the $40 million that is apparently to be divided between the Central Park Five is a big number, whether it's a "fair" figure is impossible to judge.
And this won't, unfortunately, be the last time the city is forced to put a price tag on its mistakes. A batch of wrongful conviction lawsuits is likely to come out of Brooklyn, as the reign of longtime district attorney Charles Hynes gets overdue scrutiny. Each case will be different, of course, but in wrapping up the Central Park saga the mayor may have also established a rough precedent for future deals: one million dollars per year in jail.
When it comes to the city budget, de Blasio's view has been just as plain and consistent: Balance sheets are not merely numbers but an expression of values. So the new $75 billion plan isn't just fiscally prudent — the methods that led to it are morally superior: "[The] agreement follows a more honest budget process that ended the cynical 'budget dance' and reflects the productive and respectful relationship between the administration and the Council," the mayor declared in announcing the deal with City Council Speaker Melissa Mark-Viverito.
Less cynicism in politics would indeed be a transcendent achievement. But the current budgetary consensus and good feeling comes at a time when the city is relatively flush, with revenues rising and crime rates still low. So the mayor was able to find $6.25 million for free middle school lunches without raising taxes, and to add 200 new civilian NYPD staff who are supposed to free police from desk jobs — instead of hiring the 1,000 new cops Mark-Viverito wanted.
De Blasio has set himself a tough standard: To not just be right on policy, but righteous. To his credit, the mayor has followed through on his words about the Central Park case. Perhaps he will never need to negotiate a budget during a recession or a crime wave, which would be a good thing for everybody. But it will be the hard choices, to coin a phrase, that really test the mayor's ideals.