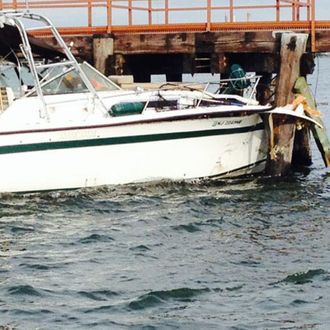 In the first few minutes of Sunday morning, a fishing boat entered the 200-foot restricted waterway around La Guardia and ran into a lighting pole on one of the airport's runway extensions. The Port Authority Police Department spotted the wreck on its surveillance cameras, but was unable to respond because their own boats had been docked for the night, so the NYPD Harbor Unit was dispatched to investigate. A PAPD official, apparently upset that the budget doesn't allow his agency to have patrol crews in the water 24 hours a day, was sure to tell the New York Post that if the people involved in the crash had been "terrorists with bad intentions, they could have easily succeeded." Luckily, it was just a trio of drunk baby boomers.
When the cops got to the scene of the accident, they found 51-year-old captain Craig Gallo, with James Benenato and Mary Ann Belson, both 60, onboard the vessel, which was impaled on a lighting pole. Benenato was unharmed, while Gallo and Belson had suffered minor facial injuries. Officers also smelled alcohol on Gallo, who was arrested and charged with boating under the influence. However, according to the Post, this was not your run-of-the-mill drunken misadventure: The tabloid quotes an unnamed "source" who claims that the trio, who apparently met earlier in the night at a Queens bar, had been engaged in "a consensual three-way sex endeavor" before the wreck.
The NYPD reportedly took around 30 minutes to reach the boat. Assuming that gave the amorous passengers enough time to make themselves decent before help arrived, it seems that the "source" could have only learned about the supposed threesome by hearing about it from one of the participants. Did an inebriated Gallo figure that the law would be gentler on a captain who was distracted by group sex with strangers than one who was drunk? Or one — or all! — of them just wants the entire city to know that they know how to have a good time? Forget the potential airport security breach — these are the questions we want answered.