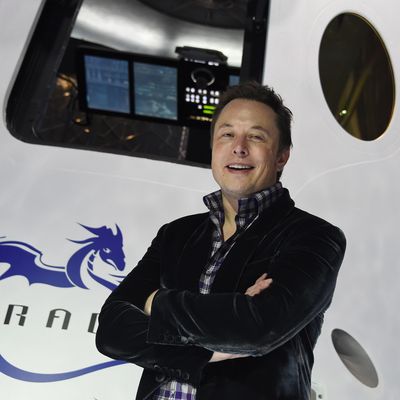 Now, what are these "cronut" things people keep telling me about?
Photo: Robyn Beck/AFP/Getty Images
There's a trend in tech these days of trying to own as little as possible. Companies like Uber and Airbnb have become billion-dollar behemoths by employing what's called the "platform-only" model, which involves outsourcing the messy work of owning cars and operating hotels to a network of "independent contractors." These companies have learned that doing business as a middleman is much easier than being a full-service supplier — just build the software that matches buyers and sellers, take a cut of each transaction, and get out of the way.
Elon Musk, the billionaire entrepreneur behind SpaceX and Tesla Motors, is taking the opposite tack.
Musk's solar-panel company, SolarCity, announced this week that it is acquiring Silevo, a maker of high-quality solar panels. Until now, SolarCity had bought cheap photovoltaic panels from outside suppliers and leased them to customers at a markup. Now it's going to start making its own, at one of the largest solar-panel factories in the world.
Musk used to be known primarily as an inventor. But these days, he's in his empire-building phase, taking on the less flashy work of building the infrastructure required to support all his crazy inventions at scale. His car company, Tesla Motors, is building a "gigafactory" for electric-car batteries in a to-be-determined state in the southwest U.S., which will power its electric vehicles as well as those of competitors. SolarCity plans to plant its manufacturing flag in Buffalo, New York, expanding a Silevo factory that was already in progress there. Being in Buffalo will give the company a foothold on the east coast, and, it hopes, allow SolarCity to keep up with increasing demand for solar panels. Naturally, Governor Cuomo is crowing, calling the merger a "landmark investment and economic game-changer taking place in the new western New York."

Why Buffalo? Well, as with much of the green-energy industry to date, SolarCity's decision comes down to government subsidies. New York State has already committed to spending $225 million on a high-tech complex in the city, at the site of the former Republic Steel mill, where the Silevo plant-in-progress is located. The state is hammering out additional subsidies and perks for the new factory, which could create as many as a thousand jobs in the Buffalo region and make New York state an important locus of green-energy innovation.

Musk's manufacturing push comes at an odd time in the solar-energy industry. Prices on solar panels have been falling for years, in part owing to an influx of Chinese manufacturers that flooded the market with cheap panels. SolarCity has been hoovering up these panels and leasing them out at a markup to its American customers. But now, it wants to out-China China, and bring the economics of solar-panel installation even further in its favor. "If we do the manufacturing ourselves and take advantage of some different technology, our costs will be lower," Peter Rive, Musk's cousin and SolarCity's co-founder, told Bloomberg Businessweek. Saving on panel production costs will be especially important if, as expected by many, the solar-power industry loses some of its more generous forms of government subsidy in the coming years.

Eventually, Musk and Rive hope to raise Silevo's production capacity to 1,000 megawatts. (It's currently at 32.) And they hope that the combined SolarCity-Silevo will be able to fix one of the big problems with today's solar-panel market — too much supply, too little demand — by making it as easy and cost-efficient as possible for people to get solar panels installed on their homes. SolarCity is already installing one out of every three solar panels in the U.S., and it hopes to become even more dominant in the years ahead by doing essentially what Tesla wants to do for cars: control every step of the manufacturing and sales process, and make the barriers to entry as low as possible.
"What we are trying to address is not the lay of the land today," the company wrote in a blog post, "but how we see the future developing. Without decisive action to lay the groundwork today, the massive volume of affordable, high efficiency panels needed for unsubsidized solar power to outcompete fossil fuel grid power simply will not be there when it is needed."
It's a risky bet for Musk and SolarCity. It's also a bet for Governor Cuomo, who could face repercussions if the Buffalo solar push doesn't go as expected. California has been subsidizing solar-panel installations for years, and while a significant portion of the state's energy now comes from solar, progress has taken longer than expected, and critics of the industry's setbacks have been numerous.
Cuomo has already proven he's a Musk fan — earlier this year, he helped broker a deal that allowed Tesla to keep its retail locations in New York amid pressure from automotive dealers to shut them down. And by sponsoring the Buffalo energy complex, he gets the best of both worlds _ the promise of hundreds of new manufacturing jobs in upstate New York, where the unemployment rate is hovering around 8 percent, and the appearance of having built a tech-friendly innovation zone in a time when every city wants one.
Plus, with SolarCity building panels in Buffalo, New York will get a front-row seat for Musk's "build it and they will come" approach to infrastructure creation. Which is proving to be the hottest ticket around.