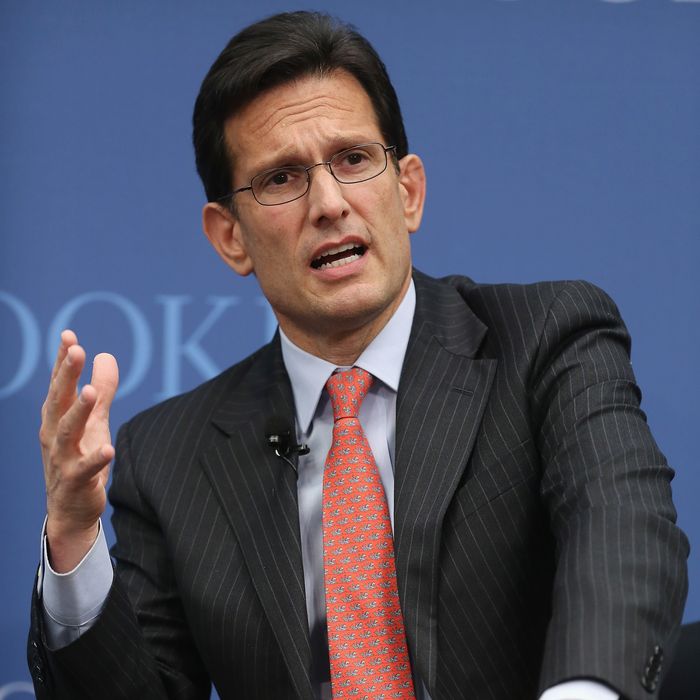 Photo: Chip Somodevilla/2014 Getty Images
Almost no one predicted that House Majority Leader Eric Cantor would lose his primary race to tea party-backed college professor David Brat on Tuesday night, as evidenced by the Washington Post's compilation of  "holy crap" tweets. Congressional Republicans in particular seemed totally caught off guard. When asked to comment, Senator Lindsey Graham, who fended off his own tea party challenger on Tuesday night, responded, "Uh, I was surprised." Some members of Congress managed to put together better elegies for the second-ranking Republican in the House, but others had a hard time concealing their glee. Here's a look at the reactions to Cantor's loss, including the positive, the negative, and the ludicrously over the top. It's not actually like, "waking up and suddenly the Washington Monument is missing," as one GOP operative suggested, but Cantor needs all the compliments he can get right now.
- As pundits began theorizing on how Cantor managed to lose the race, David Brat shared his assessment with Politico. He attributed his win to running on "Republican principles," and said attack ads in which Cantor described him as a "liberal professor" actually helped him. "They gave me $1 million in name ID and I think that got us going, I think. I'm not a political expert on that, but I think they kind of saw that was happening and they made those a little darker, and they were black and green and looked like a Star Wars thing by the time they got done with it – it made me look like a pretty serious guy.
- It was obvious that Cantor's colleagues hadn't given much thought to the possibility of him losing, since it took them hours to react to the news. The Washington Post's Ed O'Keefe said on Twitter that Republican Senators Richard Burr and Saxby Chambliss told him they had no comment. Speaker John Boehner also refused to respond to reporters' questions while leaving dinner, saying "No, you all know what the rules are." Apparently, he won't talk to the press "while in hallways and similar settings."
- Eventually, Boehner posted a statement on his website that made it sound like Cantor is dying. "Eric Cantor and I have been through a lot together," he said. "He's a good friend and a great leader, and someone I've come to rely upon on a daily basis as we make the tough choices that come with governing.  My thoughts are with him and Diana and their kids tonight."
- House Majority Whip Kevin McCarthy, who may already be scheming to take Cantor's job, began his statement by saying, "As many already know, Eric is not just my colleague but one of my closest friends," adding that "every single Member of this conference is indebted to Eric's graciousness and leadership."
- Senator Ted Cruz has a contentious relationship with Cantor, and while he was presumably celebrating his freedom from Canada on Tuesday night, his staffers did a bit of gloating. Chip Roy, Cruz's chief of staff, and Amanda Carpenter, his speechwriter and senior communications adviser, responded with their boss's "Make DC Listen" line:
TIME columnist Mike Murphy joked:
- Representative Peter King told the Washington Post that Cantor's colleagues knew he was spending a lot in the race, but they thought he was just "wrapping up a good win." "Word was going around tonight around members and it was disbelief," he said, adding that he's now worried about his party. "I'm very concerned that we may go all the way to the right, following Ted Cruz and the shutdown congressmen, and marginalizing us as a responsible governing party," he said.
- Democratic Congressional Campaign Committee head Representative Steve Israel agreed with King's assessment, but seemed excited about that prospect:
We all saw how far outside the mainstream this Republican Congress was with Eric Cantor at the helm, now we will see them run further to the far right with the Tea Party striking fear into the heart of every Republican on the ballot and cementing the dysfunction that has paralyzed this Congress and prevented them from taking any action to help middle class families. While House Republicans are racing to the right, Democrats are focused on a mainstream agenda that strengthens the middle class and makes this economy work for every American family. Eric Cantor is the personification of frustration with Washington and House Republicans should be terrified of the backlash from the voters who have been alienated by their race to the right.
- Unlike Representative Israel, Democratic National Committee Chairwoman Representative Debbie Wasserman Schultz remembered to give Brat's Democratic opponent a plug, though she didn't mention his name (Jack Trammell):
Tonight's result in Virginia settles the debate once and for all - the Tea Party has taken control of the Republican Party. Period. When Eric Cantor, who time and again has blocked common sense legislation to grow the middle class, can't earn the Republican nomination, it's clear the GOP has redefined 'far right.' Democrats on the other hand have nominated a mainstream candidate who will proudly represent this district and I look forward to his victory in November.
- House Minority Leader Nancy Pelosi said, "As far as the midterms elections are concerned, it's a whole new ballgame."
- Matt Brooks, the Republican Jewish Coalition's executive director, lamented that Cantor won't be the first Jewish House speaker, and called his defeat "one of those incredible, evil twists of fate that just changed the potential course of history."
- Among non-politicians, there were two factoids that got people excited on Twitter. First, no sitting majority leader has lost a primary since the position was invented in 1899. Second we have this gem, per the New York Times: "Since the beginning of last year, Mr. Cantor's campaign had spent about $168,637 at steakhouses compared with the $200,000 his challenger, David Brat, had spent on his entire campaign."
- And of course, there were plenty of jokes. (They made it pretty easy with the names "Cantor" and "Brat.")
- Finally, people were confused about why CNN continued airing a special on the 20th anniversary of the O.J. Simpson trial. MSNBC and Fox News jumped on the major shake-up in Congress, but since it didn't involve a missing plane, CNN wasn't interested.